We are so excited to announce, one of the most influential vocalists from Japan, HYDE, the lead vocalist from the legendary Japanese rock band, L'Arc-en-Ciel, as well as VAMPS, is finally coming to Kuala Lumpur for the first time with his concert tour entitle [HYDE Acoustic Concert Tour 2018 黒ミサ Asia Live in Kuala Lumpur], Kuala Lumpur being the ONLY stop for South East Asia! The concert will be held on 12 May 2018 (Saturday) at MCA Hall, 8pm.
HYDE is taking his time to hold meet & greet with the fans limited to VIP ticket holder! There will be a special moment for the fans to have a high-touch and a group photo session with HYDE. We have been requesting HYDE to come to Malaysia for so many years and this is finally happening. The fans should never miss this opportunity to witness the world of HYDE, his amazing vocals and fashion in live! Hard core fans of HYDE, should not miss this opportunity! The VIP tickets are limited!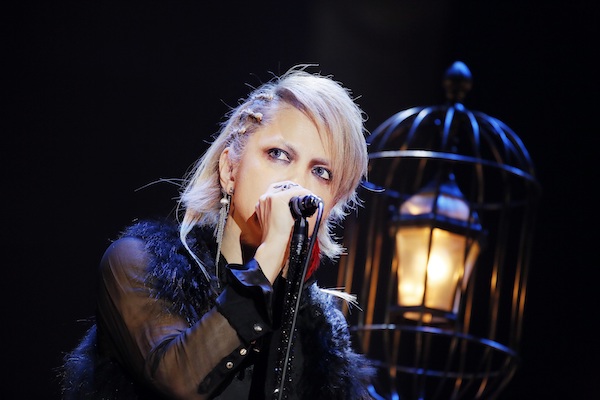 HYDE Acoustic Concert Tour 2018 黒ミサAsia Live in Kuala Lumpur is organized by Toybox Projects; VAMPROSE (Artist Management); SMC Entertainment (Tour Agent); Presented by Medic Group m+plus; Inherit (Official Fashion Brand); Marion Crêpes Malaysia (Official Dessert); EPOP (Official Media); Rentak Sejuta (Official Online Media); and Selebriti Online (Official Online Media).
Ticket price for the concert is VIP RM698 / RM508 / RM338 / RM168. All concert tickets are excluding ticket processing fee and other online & credit card transaction service fees. Tickets will be launching on 12 March 2018, 10am at www.ticketcharge.com.my, +603 9222 8811 (Kuala Lumpur) / +604 645 9811 (Penang).
INTERVIEW
1.As we know, now you move solo not with the band, how do you compare when you are in a band and solo?
Freedom I guess?
No matter what I do, I won't  receive a dirty look (laughs). But there's a lack of chemistry.
2.Why you choose to put metal element in your album?
Because I want the audience to go wild.
3.Can you describe your music style and what bands is inspired you to come out with this music?
I'm a multifaceted artist. 
My solo work is totally different from my work with L'Arc and Vamps. I'm influenced by many kinds of music but mostly by 80's metal and British New Wave. Recently I like Bring Me the Horizon.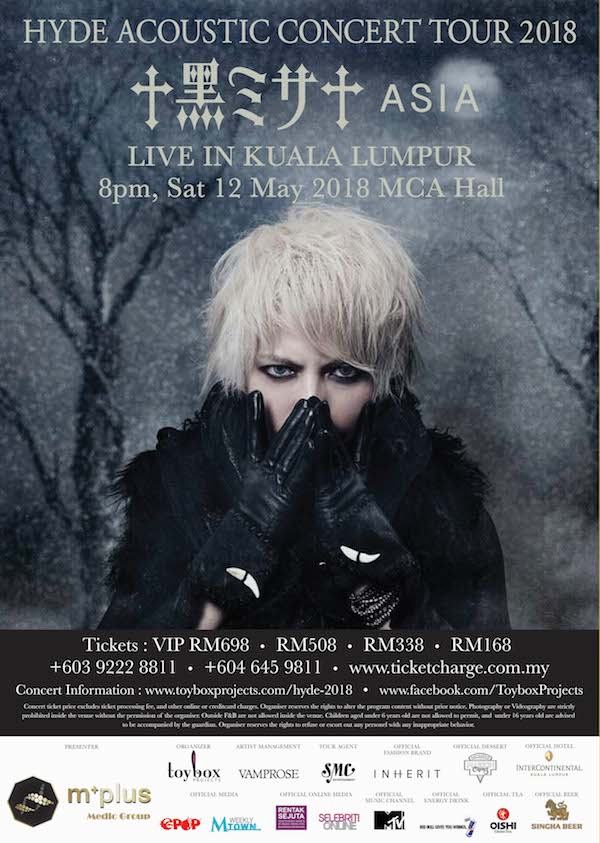 4.Do you know any Malaysia artist or band? If you have a choice which artist you want to collaborate with?
I have no idea so please teach me.
5.Seeing as you are from Japan, the place where anime reigns supreme, what is your favourite anime? And as i know you have make a voice over in Bakuman anime, so how do you feel it?
I don't really watch anime but out of all the movies I've seen I like Evangelion best. I'm not accustomed to voice acting but if there's a cute one, I'll do it. 
6.This is your first solo show in Malaysia. What do you feel when you got an offer to play in this country and what do you know about Malaysia
Kuro Misa is different from any other live I've done up till now as it's in an acoustic style and you might not have that image of me, but I'm really happy that I have fans in Malaysia and I'm able to go there. Looking forward to it.