The largest sports media property in Asian history, ONE Championship™ (ONE), held an open workout for competitors of ONE: TOTAL VICTORY at the Celebrity Fitness gym of FX Sudirman in Jakarta, Indonesia on Thursday, 14 September. The workout featured Filipino standout Geje "Gravity" Eustaquio, as well as homegrown talents such as "The Terminator" Sunoto, Stefer Rahardian and Adrian Matheis who showcased their martial arts techniques in front of fans and media.
Geje Eustaquio, ONE flyweight contender, stated: "I have been working very hard to get back on the hunt for a world title, and now the opportunity is coming swiftly. It's truly an honor and a privilege. Thank you ONE Championship for the trust that you have given me, and the belief in my abilities. I will showcase my best skills in this bout and take home the win for the Philippines. Jakarta, be ready. I am bringing the action right to you."
Top flyweight contender and former world title challenger Geje "Gravity" Eustaquio of  Baguio City, Philippines, is one of the most skilled martial artists in Asia, and a highly-decorated wushu practitioner. His solid striking and grappling skill set has led to huge victories over the course of a six-year professional martial arts career. Training in the high altitudes of the Philippines' mountainous region, Eustaquio hones his craft alongside world-class teammates at the fabled Team Lakay. In his most recent bout, Eustaquio defeated fellow striker Anatpong Bunrad via split decision in a rematch. Known for his incredible ability to keep calm in the face of adversity, Eustaquio is set to headline ONE: TOTAL VICTORY on Saturday, 16 September opposite former ONE Flyweight World Champion Kairat Akhmetov.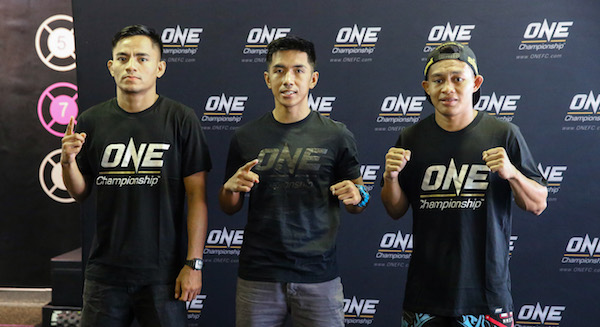 Top Indonesian prospect Stefer Rahardian impressed in his ONE Championship debut by winning the ONE: TITLES & TITANS Flyweight Tournament in August of 2016. Rahardian finished both Yotha Hutagalung and Hendrick Wijaya by first round rear-naked choke to become the tournament winner. In his last outing, Rahardian outperformed Eugene Toquero to win by unanimous decision in three rounds. Now unbeaten at six wins and no losses, Rahardian puts his unblemished record on the line against Sim Bunsrun.
24-year-old Adrian Matheis of Jakarta, Indonesia, is a martial artist competing in ONE Championship's talented strawweight division. In the ONE: TITLES & TITANS strawweight tournament in August 2016, Matheis defeated both Rustam Hutajulu and Roso Nugroho via scintillating knockouts in one night to be crowned tournament champion. In his next bout, Matheis crosses paths with the debuting Phat Soda.
For more updates on ONE Championship, please visit www.onefc.com, follow us on Twitter and Instagram @ONEChampionship, and like us on Facebook at https://www.facebook.com/ONEChampionship.