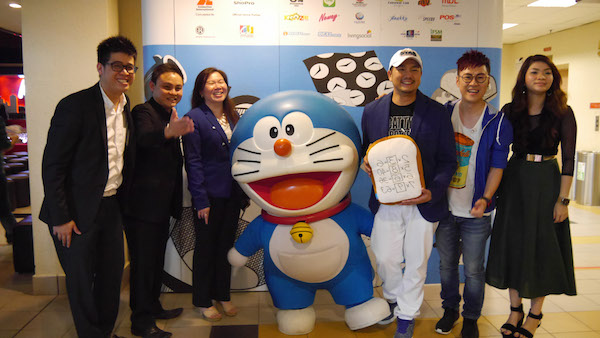 Starting from 30th Aug – 4th Jan 2015, Malaysians will have another chance to be part of this exciting event as the 100 Doraemon Secret Gadgets Expo will be moving to Johor Bahru City Square, with the theme: "Everyone wants a Doraemon!"
100 Doraemon Secret Gadget Expo – JOHOR BAHRU: What to Expect?
Not only will the expo feature the original 100 life-sized Doraemon figurines, 100 iconic gadgets and well-known scenes in Doraemon stories, there are brand new things that fans can expect:
New Gadgets, New Scenes.
"Fans should expect an all new Doraemon experience when the expo travels to JOHOR BAHRU. There will be a change of scene and feel for the 100 Doraemon area with more new gadgets, more new iconic scenery for plenty of photo taking opportunities," promises Mr. Steve Chow – the director of Animation International (M) Sdn Bhd. "Just to give you a hint of what to expect: there's a garden wedding, and a brand new Nobita's School scenery!"
Some of the interesting and bizarre gadgets that fans can check out include: a "Dokodemo Door" that allows to travel anywhere by simply going through the door, a "Take-Copter" which is a bamboo propeller which can airlift you to safety, to the fan favorite "Time Machine" which enables one travel through time and space.
 Ambassadors: Jack Lim and Fuying & Sam
In accordance to the theme for the Second leg of the Malaysian 100 Doraemon Gadget Expo "Everyone wants a Doraemon", there will be special appearances by Ambassadors Jack Lim and FS Fuying & Sam. Jack Lim was selected to the expo's ambassador as he is a family man, who is a good father and a good husband. FS Fuying & Sam, on the other hand, are ideal role models for teens and the youth.
To fully embrace the theme "Everyone wants a Doraemon", the expo is be holding various exciting activities, events and online campaigns to let visitors fully enjoy and immerse themselves in the Doraemon experience. Stay tuned to find out more about these activities in store!
School Holiday and Travel Package
To continuous contribute to the school and social, Animation International will have special promotion for all the primary and secondary students in Malaysia in conjunction of the "100 Doraemon Secret Gadget Expo" in Johor Bahru. Travel packages are also available at Matta Fair PWTC Kuala Lumpur, Matta Fair Danga Bay Johor Bahru, Matta Fair Malacca and Matta Fair Batu Pahat Johor. Further information please send us an email at 100doraemon@animation-int.com.my .
Ticket prices:
Tickets for the expo is RM 25 for adults (13 years & above) and RM 15 for children (aged 4 – 12). Children below 90cm, senior citizens above age 60 and OKU will enjoy free entrance to the Expo. Tickets will be available on 7th August onwards at:
** Early Bird promotion of 20% discount is available from 07 August to 17 August 2014.
(Terms & conditions apply)
For more information on 100 Doraemon Secret Gadgets Expo, visit the official website @ www.100Doraemon.com or follow us on @DoraemonMalaysia on LINE.
Can't get enough of Doraemon?
Don't worry as Doraemon 45th Anniversary is coming up in the year 2015.
Keep an eye out of exciting activities to celebrate this momentous occasion!