The honor View10 features state-of-the-art artificial intelligence (AI), making View10 a phone that think, learn and react.
Optimised performance with the powerful Kirin 970 chipset with 6GB + 128GB memory and EMUI 8.0, unleashing exceptional processing power, perfect for multi-tasking and gaming.
Available nationwide from January 12 onwards at the recommended retail price of RM2,099, with pre-orders beginning January 8, 2018.
honor, a global leading smartphone e-brand, brings the honor View10 that is world's most powerful mobile AI processor and architecture to the Malaysian market. This marks the beginning of a new AI-smartphone era which will enable optimum performance, entertainment and a fun user experience.
The wait for View10 is over. Pre-order starts January 8 with units available for sale on January 12, 2018.
"We have received so many requests and enquiries on the View10 that we just had to ensure that our Malaysian fans are amongst the first in the world to get their hands on the honor View10. We managed to bring up the availability of the much anticipated model by two months from what was originally planned. We were supposed to only start sale of the View10 in March, but we knew we had a lot of fans here in Malaysia.
"Similar with the key features of the View10, which is a phone that think, learn and react, we did the same where we observed the sentiments of the market, quickly put into motion our learnings and reacted accordingly to bring the View10 to Malaysia much earlier. We are truly grateful of the support we have received thus far and we are committed to continue to provide world-class devices which meet and exceed customer satisfaction," said Zhao Zhiwei, Head of honor Malaysia.
Pre-order with exclusive gift set worth RM699 limited to 1,000 units only.
Pre-order for the honor View10 is available on four major online platforms – Vmall, Lazada, Shoppe and 11Street.
The pre-order handsets will come with gift-set worth RM699 which includes an honor band A2 and Final Fantasy Redemption Card. The gift-sets will be limited to the first 1,000 units sold.
The honor View10, retailing at RM2,099, will be available in two colours – BLUE and BLACK that comes with a 6GBRAM/128GB ROM.
"Back in 2016, we (honor) were the first brand to introduce the concept of AI-phones to the industry with honor Magic. Transcending that boundary of a typical smartphone, we are moving forward and introducing the honor View10 which comes feature-packed with all the latest technology has to offer and premium specifications. The honor View10 will undoubtedly be the best intelligent smart phone in the market.
"The honor View10 aims to enable exceptional user experience with our very first AI-powered smartphone, which marks the beginning of a new AI era for us. Our goal is to always deliver top-end quality and performance-based devices at a highly competitive price point," continued Zhao.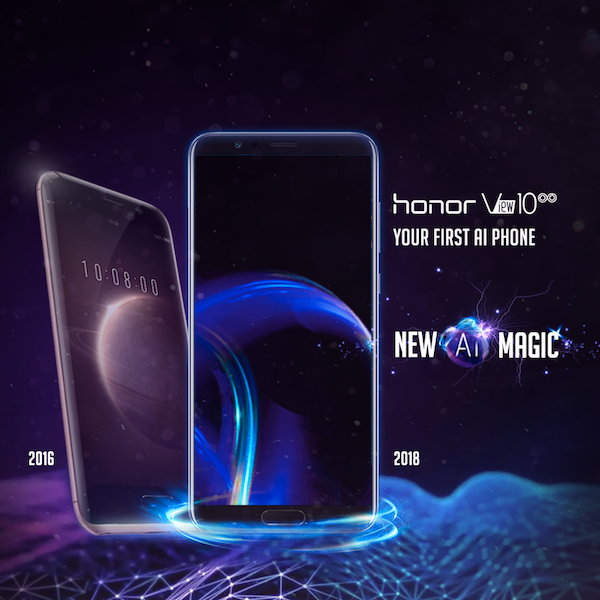 Revolutionary mobile AI and ultimate performance
The powerful Kirin 970 chipsets which include a Neural-Network Processing Unit (NPU) is at the heart of the honor View10's extreme optimum performance. It powers a series of new AI applications which recognise different scenes when taking photos, translates different languages in real-time even without an Internet connection and understand user's behaviors and optimises the phone's performance.
The new Kirin 970 features an octa-core ARM Cortex CPU and a first-to-market Mali-G72 12-core GPU. Together with 6GB + 128GB memory and EMUI 8.0, it unleashes amazing processing power in multi-tasking environment and gaming.
honor engineers looked into why smartphone performance decreases over time in different scenarios. Based on this information, the honor View10's AI monitors and understands the users usage pattern and predicts how it will affect performance. It then automatically manages resources such as CPU, memory, I/O, storage, file systems and battery which is able to reduce abnormal app launch rates by 80%.
AI-powered Translation in real-time
honor has partnered with Microsoft to implement offline AI Accelerated Translator software in the honor View10 that enables a faster, accurate and interactive snap-to-translate service. The new Kirin 970 processor has a powerful Neural-Network Processing Unit (NPU) which increases translation speed by 300% compared to other translation apps. AI-enhancement enables real-time face-to-face voice translation and photo recognition translation. This is made possible because there is no network lag.
Superior performance and partnership with global game developers
Users can use the special Gaming Suite to boost gaming performance. honor has partnered with leading game developers to heighten games for the honor View10, ensuring that games take full advantage of the hardware platform.
Long battery life and SuperCharge
The 3,750 mAh battery and honor SuperCharge technology make honor View10 ideal for gamers and heavy users. honor SuperCharge is able to charge the phones battery to 50 percent in just 30 minutes while operating at a low temperature and voltage.
Pictures to near-DSLR quality with AI-camera
honor View10 is equipped with a high-definition AI-powered 16MP + 20MP dual-lens camera with F/1.8 wide aperture and 2-in-1 PDAF automatic focusing, enabling users to take professional photos in the blink of an eye. The AI scene recognition feature makes professional photography just a click away.
The new ISP with AI capability allows cameras to identify objects and scenery in real-time. The honor View10 recognises 13 different scenes and objects, such as people, sky, food and cat. The camera instantly sets the best parameters by adjusting colors, contrast, brightness and exposure, to make your photos better than ever.
For more information on honor, please visit www.hihonor.com/my/