Schneider Electric Malaysia, the global specialist in Digital Transformation of Energy Management and Automation in Homes, Buildings, Data Centers, Infrastructure and Industries, recently held the "World's Smallest Masterpiece Contest", in conjunction with the launch of their inaugural AvatarOn series.
AvatarOn is Schneider Electric's extensive range of customisable switches that integrate easily into every interior styles thanks to its wide variety of covers including plastic, wood, metal, marble, leather and a DIY customisable and printable covers.
The first, second and third place winners from the Non-Professional Category recieved RM3,000, RM2,000 and RM800 respectively; while the top three winners for the Professional Category took home RM10,000, RM5,000 and RM2,000 each.
Chio Pei Leng from INTI Center of Art and Design emerged as Champion in the Non-Professional Category, whereas Foo May Yee who is also from INTI Center of Art and Design and Yap Pei Feng from High School, SMK (P) Jalan Ipoh nabbed the second and third place respectively.
The Professional Category saw Mohamed Shahril from Shahril Faisal Design Studio as the champion; with Teh Boon Soon and Pearly Lim Pei Li with both from Boon Soon Architect following closely behind at second and third place.
"From the entries received, we saw that Malaysians are indeed very creative and many of the works exhibited good skills, technique and most importantly, imagination and creativity. We were thrilled to have received these creative entries from remarkably talented students and professionals, and we are happy to have been able to provide this platform to nurture talents. We would like to thank all participants, finalists and winners for their support. Schneider Electric hopes to continue our efforts in showing our commitment in growing and nurturing local talent pools, and we hope to receive as much support from the public in future activities," said Schneider Electric Malaysia Business VP Retail, Mr Francis Heng.
Meanwhile, Chio Pei Leng winner of the Non-Professional Category expressed her joy after successfully winning the cash prize and to have her artwork featured on Schneider Electric's exclusive AvatarOn collection.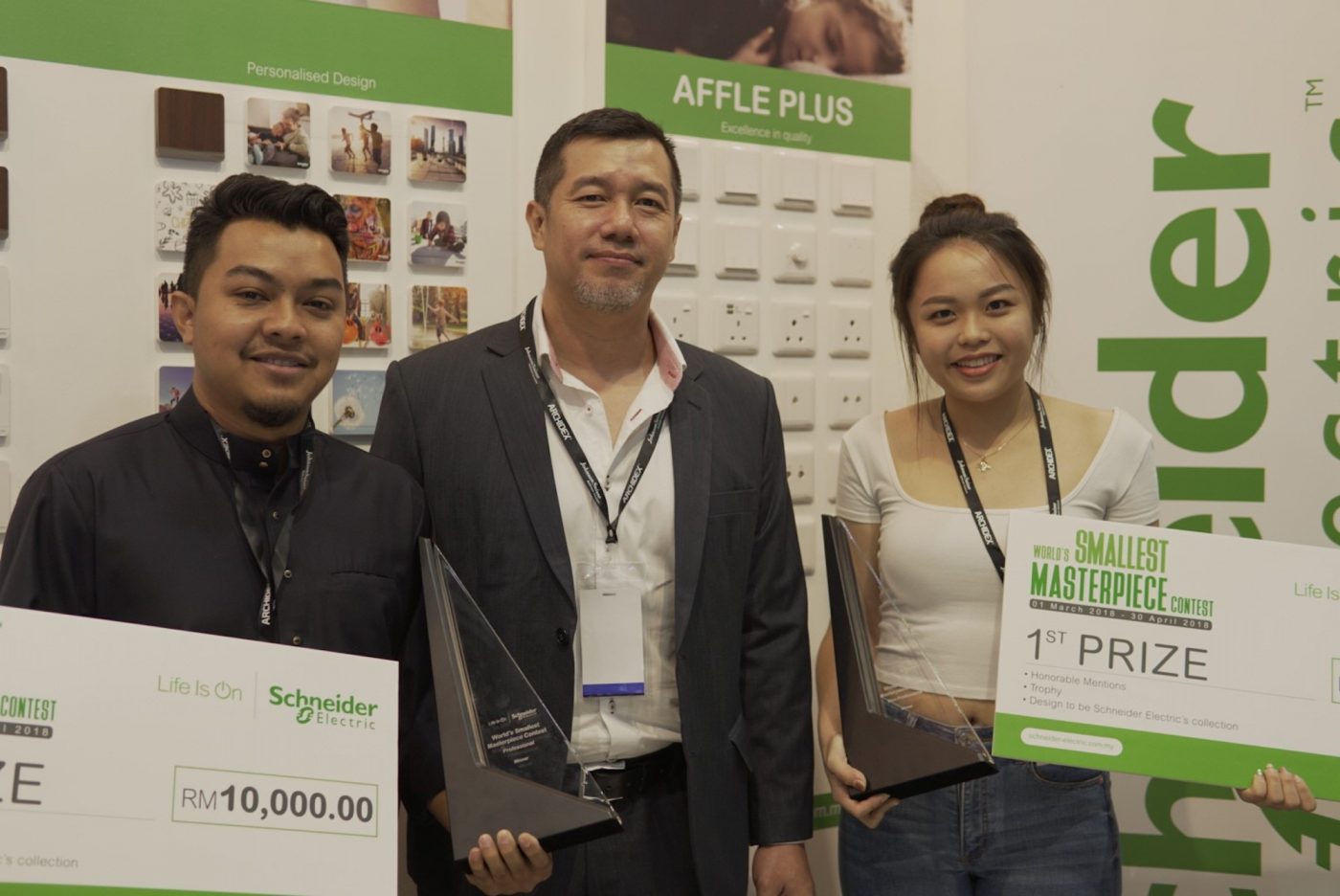 "Art has always been a passion of mine, often in my leisure time I find it a relaxing habit to draw whenever I need to think. I am very happy that my artwork was chosen as the winner out so many entries, it makes me more confident with my drawing skills. I am thankful for the opportunity and recognition of my talent given by Schneider," she said.
The "World's Smallest Masterpiece Contest" ran from 1 March 2018 to 30 April 2018, and received a total of 1,074 entries nationwide, from students and professionals alike. Participants were required to come up with their own creative designs on an 85mm X 85mm canvas, measuring up to the size of AvatarOn switch covers.
The finale of the contest was held on 6th of July 2018, in conjunction with the 19th International Architecture, Interior Design and Building Exhibition (ARCHIDEX) at the Kuala Lumpur Convention Centre, where the top 10 shortlisted entries were showcased and judged live at Schneider Electric Malaysia's booth.
List of winners: –
Professional Category
| | | | |
| --- | --- | --- | --- |
| 1st Place | Mohamed Shahril | Shahril Faisal Design Studio | RM10,000 + Design to be featured in Schneider Electric's exclusive AvatarOn collection |
| 2nd Place | Teh Boon Soon | Boon Soon Architect | RM5,000 |
| 3rd Place | Pearly Lim Pei Li | Boon Soon Architect | RM2,000 |
Non-Professional Category
| | | | |
| --- | --- | --- | --- |
| 1st Place | Chio Pei Leng | INTI Center of Art and Design | RM3,000 + Design to be featured in Schneider Electric's exclusive AvatarOn collection |
| 2nd Place | Foo May Yee | INTI Center of Art and Design | RM2,000 |
| 3rd Place | Yap Pei Feng | High School, SMK (P) Jalan Ipoh | RM800 |
For more information on the contest, please visit www.schneider-electric.com.my/avataron