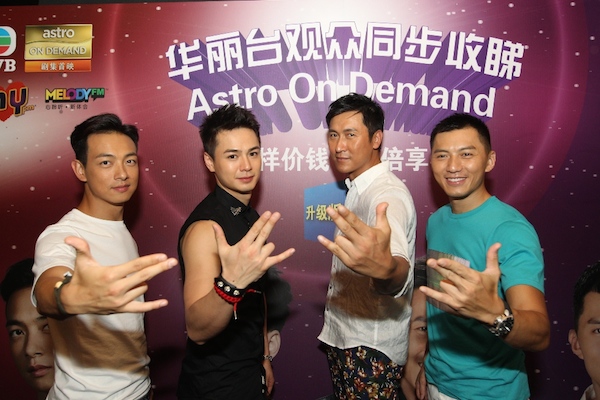 Astro Wah Lai Toi viewers on the Dynasty Pack will be able to enjoy the latest TVB dramas broadcast at the same time as in Hong Kong through Astro On Demand (AOD) channels at no additional cost, from 11th July 2014 onwards.
Choo Chi Han, Head of Chinese Customer Business at Astro said, "The Chinese customer segment is important to us. Having been in business for the past 17 years, we have a deep understanding of the changing market landscape and the needs of the consumers. To this end, Astro has been constantly looking to improve the value proposition for our customers from our content offering, packages to their viewing experience. Leveraging on the strength of our longstanding relationship with channel partners such as TVB, we are pleased to expand the content choices for our customers. We are delighted to enable Dynasty Pack customers on the Astro Byond set top box to watch AOD channels which carries fresh TVB dramas at no additional charge. With this, more than half a million Chinese households will now be able to enjoy premium TVB dramas the same time as it debuts in Hong Kong."
"With the inclusion of AOD channels, the new Dynasty Pack now delivers more punch – more value, greater choices and better quality at the same package of RM81.95 per month. Customers now get to enjoy the best of TVB dramas fresh from Hong Kong, in addition to our existing wide variety of TVB content including drama, infotainment, travelogue, variety show and live award presentation," Choo added.
Sherman Lee, Controller of International Business Division of TVBI said, "TVB continues to produce high quality content for Malaysian viewers. We are pleased that TVB content, especially the drama series have been well-received by Astro Wah Lai Toi viewers for many years. We will allocate more resources to shoot TVB drama in overseas countries in the future, and of course, Malaysia is one of our key destinations. Continuous support from Astro customers will definitely encourage TVB to produce more content in Malaysia."
The Astro Dynasty Pack will remain at RM81.95, with the new AOD channels, Astro Wah Lai Toi, Phoenix Chinese Channel, TVB Entertainment News, TVB Xing He, TVBS Asia, Astro Shuang Xing and NHK World, in addition to the standard offerings which include Astro AEC, Astro Xiao Tai Yang, Kah Lai Toi, CCTV4, TVB Classic, Celestial Movies, CTi Asia, Phoenix Info News and KBS World on the Astro Chuen Min Pack. Customers with HD service will now get to watch additional 10 HD channels namely Astro On Demand HD, Astro Zhi Zun HD, Astro Quan Jia HD, One HD, Disney XD, AXN HD, FX HD, Food Network Asia HD, Life Inspired HD and KIX HD.
Astro Dynasty Pack customers, currently on the old set-top-boxes, are required to upgrade to Astro B.yond box in order to enjoy AOD channels, as well as other value-added services such as HD and PVR. Astro Dynasty Pack customers who have subscribed to the Dragon Pack will enjoy an RM39.95 savings, now that AOD is part of the Dynasty Pack.
Commencing 14th July 2014, Astro Dynasty Pack customers on the Astro B.yond platform will be able to catch the premiering episodes of TVB dramas, 'Ghost Dragon of Cold Mountain', a period drama starring Kenneth Ma, Selena Li and Pierre Ngo, as well as 'Black Heart White Soul', a modern thriller serial featuring Roger Kwok, Kristal Tin and Ron Ng. Both series will premiere at 8.30pm (AOD Ch 351) and 9.30pm (AOD Ch 361) respectively and in HD (AOD HD Ch 350) on weekdays, concurrently with Hong Kong's TVB Jade channel.
At the same time, Dynasty Pack customers with Astro On The Go (AOTG) service can watch AOD anytime, anywhere across multiple devices be it on smartphones, tablets or laptops.
Please go to Astro Service Portal on Channel 200, call 1300 82 9888 or visit www.astro.com.my/shop for upgrades.