To set the mood for 2017, Astro Vinmeen HD (CH231) will showcase a series of fresh travelogue shows- My Journey and KL to Karikudi from 31st December 2016.Malaysian street food show "Rasikka Rusikka" will also make a comeback with Season 3 with more ideas on where to get the best hawker fare treats in Malaysia.
Dr. Rajamani Chellamuthu, Senior Vice President, Content Management Group, Astro said, "We are constantly looking to improve and expand the variety of entertainment options for viewers in Malaysia and around the world. We also want to resonate with the millennials, who enjoy the finer things in life, including travel and good food.
"More importantly, we want to set the right, happy, hopeful tone as we enter 2017; and what better way than to experience the variety life has to offer through these shows", he added.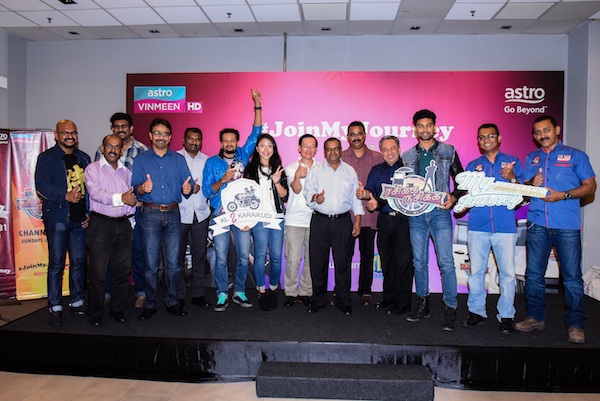 My Journey– Premiering on 31/12/2016 (Every Saturday @9.30pm) – 13 episodes
2 Classic Car enthusiasts Rukshan Munesinghe and Manivannan Manikumaran take the journey of a lifetime in their Classic 1971 Ford Capri cruising through five countries, starting off from Malaysia to Thailand, Myanmar, India and lastly across the sea to Sri Lanka in a journey spanning 11,000 kilometres. And they carry the Malaysian spirit with them, giving out Malaysian flags and memorabilia in promoting the culture of harmony and inclusiveness we enjoy as a nation. This is the first of its find travelogue captured from a Malaysian perspective.
KL to Karaikudi – Premiering on 1/01/2016 (Every Sunday @9pm) – 39 episodes
KL to Karaikudi follows two adventurers, Malaysian Denes Kumar and Singaporean Nisha Wong, as they hit the road on a travel adventure like never before. Traversing through Malaysia, Thailand, Myanmar and India, they take on more than 7000km on a Royal Enfield Desert Storm Classic Bike.
Rasikka Rusikka (S3) – Premiering on 1/01/2016 (Every Sunday @9.30pm) – 13 episodes
Bala Ganapathy Williams is back in Season 3 with a new ride and persona in this travel foodie show that features some of the best places to get the most sought after Malaysian delicacies.  Running since 2014, this show in Tamil has garnered a unique following of viewers and has covered the best street food joints from Kedah to Johor!