The concert is the highlight of a week of major entertainment in Singapore around the WTA Finals, with the city serving up smashing action from the greatest stars in women's tennis at the Singapore Sports Hub from October 22-29, coupled with various exciting lifestyle and entertainment events around town. Special tennis-and-concert ticket bundles of up to 10% off and upgrades for existing WTA Finals ticket holders are available for a one-day only presale from September 7, exclusively at WTAFinals.com.
The Backstreet Boys consists of Nick Carter, Howie Dorough, Brian Littrell, AJ McLean and Kevin Richardson. The band released their self-titled U.S. debut, "Backstreet Boys" in 1996. The album not only won the group the Best Newcomer and Best Group award at the MTV European Music Awards but also attained the Diamond Award from the Recording Industry Association of America (R.I.A.A.) for sales of more than 10 million copies. "Quit Playin' Games (With My Heart)", "As Long As You Love Me" were popular singles, with the former achieving platinum status and the album eventually sold an astounding 14 million copies in America alone. With their synchronised dancing and groovy hits, Backstreet Boys paved the way for a new wave of boy bands.
The band went on to release several more award-winning albums such as "Backstreet's Back (1997)" and "Millennium (1999). They won their second Diamond Award from the R.I.A.A. and "Millennium" entered the Billboard Top 200 Album Chart at #1, having sold 1,134,000 copies in the first week of release and nearly 500,000 copies alone on its first day out in America. The group achieved international superstardom as the album dominated worldwide charts, landing at the #1 spot in Austria, Belgium, Canada, Denmark, Germany, Greece, Holland, Hong Kong, Iceland, India, Indonesia, Italy, Korea, Malaysia, Mexico, New Zealand, Norway, Philippines, Portugal, Singapore, Spain, Sweden, Switzerland, Taiwan, and Thailand.
"Millennium" remained on the Billboard chart for 93 weeks, eventually selling over 13 million copies in America and over 40 million copies worldwide. UnUsUaL Entertainment Pte Ltd 飛凡娱乐有限公司 45 Kallang Pudding Road #01-01 Alpha Building Singapore 349317 Tel: (65) 6841 4555 Fax: (65) 6841 0129 Website: www.unusual.com.sg Co. Reg. No: 200300093R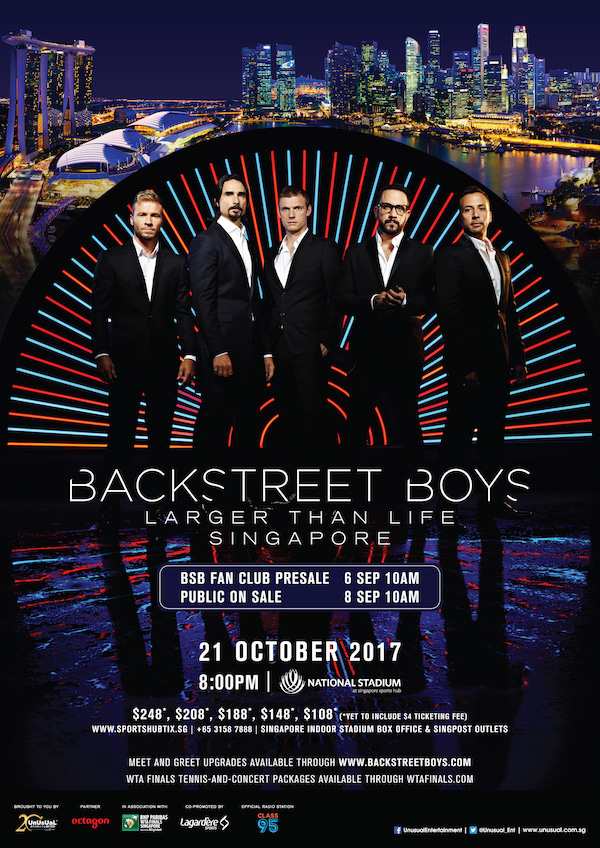 Throughout their two decades long career, the Backstreet Boys has garnered an impressive number of hits such as "Everybody (Backstreet's Back)", "I'll Never Break Your Heart", "I Want It That Way", "Larger Than Life", "Show Me The Meaning Of Being Lonely", "Shape of My Heart", "Incomplete" and many more. These hits remain a crowd favourite and sing-a-long in all corners of the world.
For 24 years, the Backstreet Boys, one of the most successful groups in music history, has continually delivered the finest pop music one has to offer, making them one of pop's most influential performers. With countless #1s, record-setting tours, numerous awards and worldwide sales in excess of 130 million, Backstreet Boys has been recognized as the best-selling boy band in history.
In 2013, Backstreet Boys celebrated their 20th anniversary with the release of the album "In A World Like This", which saw the group receive a star on the legendary Hollywood Walk of Fame, perform for the President of the United States, and make an unforgettable appearance in the Seth Rogen hit film "This Is The End." Due to the overwhelming demand, the "In A World Like This" world tour was extended multiple times, amounting to what became the group's biggest tour in over 10 years. Their latest Las Vegas residency, "Backstreet Boys: Larger Than Life" in the AXIS at Planet Hollywood also became one of the fastest selling residencies in Las Vegas' history.
"Backstreet Boys: Larger Than Life Singapore" is proudly brought to you by UnUsUaL Entertainment and partnered with Octagon, in association with BNP Paribas WTA Finals Singapore presented by SC Global and co-promoted by Lagardère Sports.
Concert Details
Backstreet Boys: Larger Than Life Singapore
Date: 21 October 2017, Saturday
Time: 8pm
Venue: National Stadium
Ticket Prices: $248*, $208*, $188*, $148*, $108*
(*excludes booking fee)
Ticketing Hotline: 3158 7888 or log onto www.sportshubtix.sg.
Tickets also available at the Singapore Indoor Stadium Box Office and all SingPost outlets islandwide.
WTA Finals tennis-and-concert packages available through WTAFinals.com; existing WTA Finals ticket holders can also purchase concert tickets at 10% off (limited availability).
Meet and greet upgrades available through www.backstreetboys.com.