Asia is hot these days and we don't mean the weather. For Laneway Festival Singapore 2018, we have added a varied line-up of Asian artistes – eight groups from four countries (Indonesia, Malaysia, the Philippines and Singapore) to be exact.
From break-out bands to established entertainers, Laneway Singapore 2018 has them all. Foraging is our speciality and every year, we suss out the artistes to watch, so you don't have to. We've been doing this for eight years (yes, already!) and we hope we get better each time.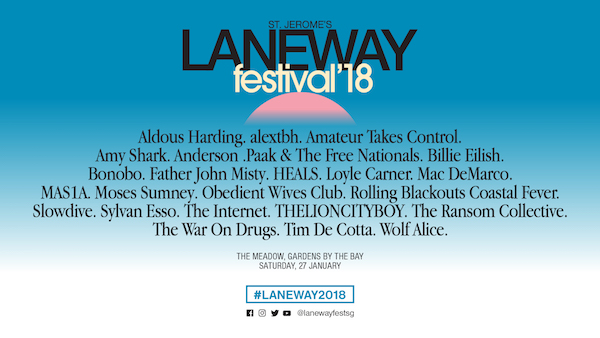 Producing music from his early teens, 21-year-old ALEXTBH has since made his mark in Malaysia's electronic music scene with his brand of atmospheric music that merges dance electronic and R&B. In August 2016, the engineering student by day, producer by night released alive, a four-track experimental, electronic-meets-R&B EP citing artistes like Flume, James Blake and Jamie xx as major influences. It racked up more than 20,000 plays on Spotify in less than two months. The single, "alive", subsequently made its way onto Hitz.fm's Met10 chart.
AMATEUR TAKES CONTROL wears its heart on its sleeve. Its affirmation of independent DIY ethics, calling for the everyman to steer his own life, shouts out from its powerful, emotional music. The five-piece instrumental rock outfit launched its debut album, You, Me and the Things Unsaid, in 2008. The release was viewed as a landmark record, considering the short history of post-rock in Singapore. Fresh from a three-year hiatus, ATC will let loose ATC EP2 on 26 December 2017. Noisier, darker and more aggressive: That's the ATC promise.
HEALS is an alternative rock / shoegaze / nu gaze band known for textured layers of distorted guitar riffs, unique sounds, effects and streams of soft yet melodious vocal. Its first single, "Void", created a wave in Indonesia upon its digital upload in 2014. A year later, HEALS landed a record deal which led to the release of B-sides in cassette format at Record Store Day 2016. Another milestone took place on 9 April 2017: HEALS launched its debut full album, Spectrum, a capsule of 10 tracks of imaginative perspectives on human life.
MAS1A of complex hip-hop flows switches effortlessly to dancehall chanting, as showcased in her international underground hit, "Warriors Tongue". She unabashedly celebrates her cultural mashup, and derives joy through expression in all forms, be it music, visual art or fashion design. Masia has also rocked audiences around the globe with her reputation as a soul rebel. The release of Bootleg Culture, produced by Che Pope (G.O.O.D. Music, Kanye West), put Masia on a world tour in 2013 visiting Jamaica, the US, Canada, Germany, Sweden, Malaysia, the Philippines and Singapore (homeground!).
Capturing the quintessential spectorgaze-esque sounds of classic girl-group pop highlighting bittersweet tales of love and loss is Singapore's OBEDIENT WIVES CLUB. The fuzz pop quintet's Cinematica, a five-track EP and its third, was released 14 July 2017. Among the production credits: legendary Singaporean musician Patrick Chng (Oddfellows, TypeWriter), American producer Brad Wood (Smashing Pumpkins, Liz Phair), American mastering engineer Hans DeKline (Pixies, Snoop Dogg), and its own guitarist, Keith Tan. Before Cinematica, there were two EPs: Obedient Wives Club (2011) – rated one of SEA INDIE's top 10 Best Indie-pop Releases in 2010/11 – and Murder Kill Baby (2013).
THELIONCITYBOY is a son of Singapore. The rapper, producer and songwriter is most famous locally for radio favourite "YAYA ft. Benjamin Kheng", receiving over a million online streams to date. After three EPs – Let's Talk About Kevin Lester (2010), Everything You Love, You Hate (2013) and Put Your City On (2014) – he dropped his first full-length album, Paradise, on 26 August 2016. THELIONCITYBOY is ready for an explosive set at Laneway Festival Singapore.
Life has not been the same for THE RANSOM COLLECTIVE since it emerged the winner in Wanderband, a competition in the Philippines among up-and-coming acts three years ago. The six-piece indie folk band soon found itself playing throughout Manila, introducing its distinctive sound that merges unique percussive patterns, acoustic guitar-driven leads, melodic violin phases and full vocal. The Ransom Collective's self-titled EP was released in November 2014, followed by full-length album Traces in May 2017. Both received high praise from music critics and peers.
Singaporean TIM DE COTTA makes no bones about being a purist. The R&B and hip-hop vocalist, bassist, songwriter and producer is moulded by Maxwell, John Legend, Common and Mos Def while his bass-playing is styled along the lines of Derrick Hodge and Stuart Zender. De Cotta is reputed to push the boundaries, in both writing and production, and this trait is evidenced in his collaborations with TAJ, L.A.B, neoDominatrix and Kilo Habit. We can't wait to see him in 2018.
St Jerome's Laneway Festival 2018
Tickets
Tickets available via www.apactix.com
Saturday 27 January – SINGAPORE – THE MEADOW, GARDENS BY THE BAY
Monday 29 January – AUCKLAND – ALBERT PARK PRECINCT
Friday 2 February – ADELAIDE – HART'S MILL, PORT ADELAIDE
Saturday 3 February – MELBOURNE – FOOTSCRAY COMMUNITY ARTS CENTRE (FCAC) AND THE RIVER'S EDGE
Sunday 4 February – SYDNEY – SYDNEY COLLEGE OF THE ARTS (SCA) AND CALLAN PARK, ROZELLE
Saturday 10 February – BRISBANE – BRISBANE SHOWGROUNDS, BOWEN HILLS
Sunday 11 February – FREMANTLE – ESPLANADE RESERVE AND WEST END