AEG Presents sincerely thanks all the fans of Ed Sheeran for their enthusiastic support in snapping up all the tickets for his first concert on Saturday, 11 November 2017. The overwhelming response saw the online ticket sales completely sold-out within 40 minutes.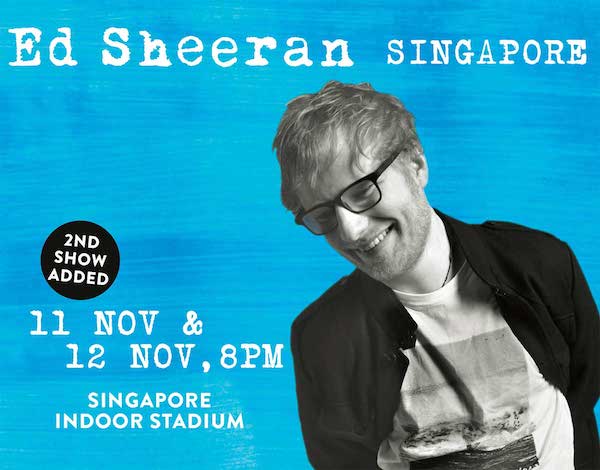 To ensure that everyone has a chance to catch the popular singer-songwriter perform in his World Tour 2017 here at the Singapore Indoor Stadium, a second concert has been added on 12 November 2017!
Tickets for the show priced at $248 / $208 / $188 / $148 / $108 will be sold online at www.sportshubtix.com right now.
Following his biggest musical comeback in recent years, 26-year-old Ed Sheeran's dual singles "Shape Of You" and "Castle On The Hill" have taken the globe by storm, landing the #1 and #2 spots across the charts worldwide while breaking a magnitude of records along the way. His official video for "Castle On The Hill", which was shot in his native Framlingham, Suffolk, has already reached over 10 million hits!
In addition to his spectacular rise with his albums, Ed has also broken records in the live sphere as over recent years as the first artist to headline Wembley Stadium (July 2015) without a band – with just his trademark loop pedal and guitar playing to 240,000 fans on 3 sold-out nights, and a very special collaboration with Sir Elton John on the opening night. Ed also performed at the London Olympics' Closing Ceremony alongside members of Pink Floyd and Genesis for a very special version of "Wish You Were Here" and shared the stage with Beyonce and Gary Clark Jr. at the 2015 Grammy tribute for Stevie Wonder.
Ed Sheeran's World Tour, which includes over 40 dates across four continents, kicked off in Europe this March before going on to South America, Australia and Asia.