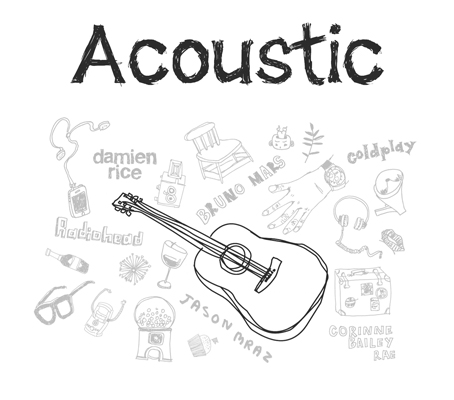 Kadang-kadang, lagu-lagu terbaik di dunia terdiri dengan elemen-elemen yang paling mudah – suara dan strumming syurga gitar, khususnya gitar akustik. Unsur-unsur ini asas membuat beberapa lagu yang bukan sahaja dapat dilupakan, tetapi menghantar mereka ke status legenda. Muzik akustik terdiri daripada muzik yang semata-mata atau terutamanya menggunakan instrumen yang menghasilkan bunyi melalui cara keseluruhannya akustik, dan bukannya kepada cara elektrik atau elektronik. Retronym "muzik akustik" muncul selepas kemunculan instrumen elektrik, seperti gitar elektrik, biola elektrik organ, elektrik dan synthesizer.
Lagu-lagu yang menawarkan apa yang dipanggil "unplugged" pengalaman kepada peminat muzik. Sebagai muzik akustik mula meluaskan umatnya, Warner Music Malaysia dengan bangganya membentangkan ACOUSTIC, himpunan dua-CD yang menampilkan 36 lagu-lagu dengan "unsur-unsur akustik". Sekiranya anda sukar untuk mengalahkan nilai dalam koleksi ini – koleksi pelbagai "Akustik" beberapa klasik dan trek baru. Walaupun nombor koleksi CD anda dalam beribu-ribu, terdapat masih artis yang cukup di sini kebanyakan orang tidak mempunyai dan anda mendapat pensampelan bagus muzik mereka – dan pasti, beberapa trek daripada lebih seniman-seniman terkenal seperti Jason Mraz atau Bruno Marikh kebanyakan orang sudah ada tetapi ia tidak benar-benar mengurangkan betapa hebatnya mereka. Bagi kebanyakan orang, ia adalah peluang untuk mencuba beberapa baru terbaik penyanyi-penulis lagu di luar sana pada harga yang sangat berpatutan untuk 36 trek.
CD 1
1. I'm Yours – Jason Mraz
2. The Blower's Daughter – Damien Rice
3. Count on Me – Bruno Mars
4. Officially Missing You – Tamia
5. Mrs. Cold – Kings Of Convenience
6. Please, Please, Please, Let Me Get What I Want – The Smiths
7. Spit on a Stranger – Kathryn Williams
8. Foolish Heart – Nina
9. In The End – Eric Benet
10. One of The Brightest Star (Acoustic) – James Blunt
11. I Could Be the One – Donna Lewis
12. Perfect Two (Acoustic) – Auburn
13. Jar of Hearts – Christina Perri
14. I Will Follow You into The Dark – Death Cab For Cutie
15. Bizarre Love Triangle – Frente!
16. Sky Blue Sky – Wilco
17. Sur Mes Gardes (avec Tete)
18. Like A Knife (Acoustic) – Secondhand Serenade
CD 2
1. Creep (Acoustic) – Radiohead
2. The Scientist – Coldplay
3. Those Sweet Words – Norah Jones
4. Tonight Tonight – Jehro
5. Officially Yours – Craig David
6. Choux Pastry Heart – Corinne Bailey Rae
7. Who'd Have Know (Acoustic) – Lily Allen
8. True – Ryan Cabrera
9. Move You (SSSPII) – Anya Marina
10. Autumn – Paolo Nutini
11. City Lights (Pretty Lights) – Priscilla Ahn
12. Happier – A Fine Frenzy
13. What Can I Do – The Corrs
14. Oh! – Eric Hutchinson
15. Over The Rainbow – Jason Castro
16. Roses – Laleh
17. I Know – Meaghan Smith
18. I Love You More Than You Will Ever Know – Never Shout Never