After fireworks erupted at the glamorous Cotai Arena of The Venetian Macao in Macao, China nearly two weeks ago, ONE Championship shifts focus immediately to its next blockbuster event in Kuala Lumpur, Malaysia on Friday, 18 August.
Taking place at the iconic Stadium Negara, ONE: QUEST FOR GREATNESS features a highly-anticipated featherweight rematch between division kingpin Marat "Cobra" Gafurov and Martin "The Situ-Asian" Nguyen as its headliner.
Both men initially crossed paths in September 2015 when Nguyen took a very short-notice bout against Gafurov for the interim ONE Featherweight World Championship belt.
Gafurov had a short night with Nguyen as he forced Nguyen to wave the white flag in just 41 seconds with his signature rear-naked choke.
"Martin Nguyen was a substitute, but he was ready. I did not make any specific adjustments for that bout. I wanted to strike with him, but he decided to grapple, and you all saw the result," Gafurov recalled.
The 32-year-old native of Dagestan, Russia seeks to accomplish an encore performance against Nguyen, who was able to ace his four next assignments with flying colors since yielding to Gafurov.
"He is a good competitor and has potential, but I do not think he is on my level. This bout is going to be exactly like the first one. It will end the same way. I am confident of my skills. My martial arts, my grappling, my conditioning – all of that makes me confident," he said.
Widely regarded as one of ONE Championship's most dominant titleholders, Gafurov became the organization's official featherweight kingpin two months later after defeating Nguyen.
Gafurov captured the gold-plated strap by compelling then-champion Narantungalag Jadambaa of Mongolia to tap with his go-to submission hold.
Ever since becoming the undisputed ONE Featherweight World Champion, Gafurov has recorded two successful title defenses, submitting multi-division DEEP titlist Kazunori Yokota in May 2016 before tapping out Jadambaa again in their second meeting six months later.
Gafurov's last victory marked his sixth consecutive rear-naked choke finish and his ninth overall, which could very well be a world record in the sport.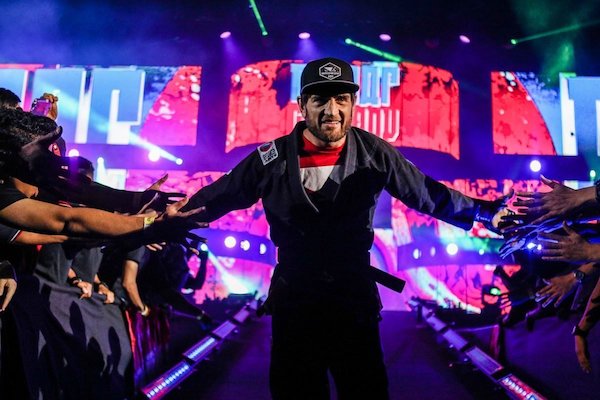 "I do not try to look for the rear naked choke in particular. It is just the way it happens, and I always take advantage of my opportunities," Gafurov shared.
Gafurov will most certainly take advantage of that opportunity when he defends the belt for the third time against Nguyen at ONE: QUEST FOR GREATNESS as the latter has evolved since their first encounter.
"If I see an opening in the bout, I will go for it. There are a lot of options. But if that's the quickest way to win, I will grab it without thinking twice," he stated.
Gafurov respects his opponent's skillset and is quick to offer that Nguyen's striking arsenal is best attribute.
"He is really good in the stand-up trade. Moreover, he has show signs of improvement in his last matches. Martin is well-rounded and has bit of everything," he assessed.
Nguyen is on an absolute tear and has shown steady improvement in each outing, notching high-profile victories over the Philippines' Edward Kelly, China's Li Kai Wen, Singapore's Christian Lee, and former title challenger Yokota.
Although many cageside observers predicts that Gafurov will have his hands full with Nguyen this time around, the Russian champion begs to disagree as he believes their talents are worlds apart and history will repeat itself in the rematch.
"I will do what I need to do on Friday, which is to win. It's going to be the same story. I will still be the champion," he confidently stressed.