Paradise – The Musical Wanderlust 2015 | Calling all passionate music lovers! Switch your rave mode-on and get ready for 48 hours of world's top electronic dance music extravaganza, first time in Kuala Lumpur on 28 & 29 August 2015. PARADISE presents "The Musical Wanderlust", a back-to-back large-scale white-themed dance party comes in the full-flavour of both local and international headliners.
Proudly organised by Paradise Event Management, this electronic dance music festival will be held at KL Live, Kuala Lumpur with the first act to start at 6pm. PARADISE THE MUSICAL WANDERLUST features local favourites like Goldfish & Blink to compliment the very special appearances of DJ BL3ND (#78 DJMag) from Mexico and Wolfpack (#84 DJMag) from Belgium respectively.
In addition of assembling our local young talent pool and relevant players in the electronic dance music landscape today, PARADISE acts as a catalyst of pushing the standards of the local entertainment industry onto a new height. PARADISE defines its vision as a home-grown product to be recognized worldwide.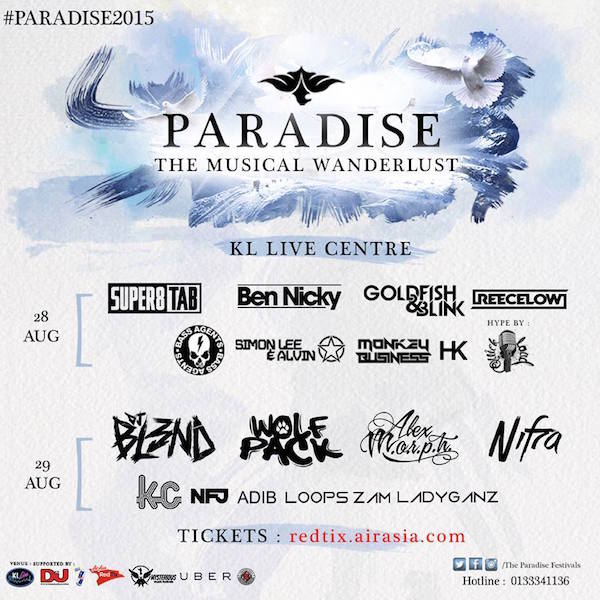 Featuring supreme DJs like Simon Lee & Alvin (local) and John Askew (international) in support of the "Set For Peace" campaign worldwide, PARADISE THE MUSICAL WANDERLUST is expected to gather over 2000 music lovers from all over Malaysia, Singapore, Indonesia, Philippines and other countries in the span of 2 days, due to its strategic dates that is well-aligned with nationwide holiday eve celebration.
Powered by our main business partner, Red Bull, this festival should be able to attract international audience in line with Tourism Malaysia's vision, "Visit Malaysia 2015". More business partners include Air Asia Red Tix, UBER, and DJ Mag Asean, all geared up and ready to make PARADISE THE MUSICAL WANDERLUST, an unforgettable journey.
Line Up:
Day 1 – Friday, 28th August, 2015
Super8 & Tab
John Askew
Reece Low
Goldfish & Blink
Bass Agents
Simon Lee & Alvin
Monkey Business
Hard Knights
Day 2 – Saturday, 29th August, 2015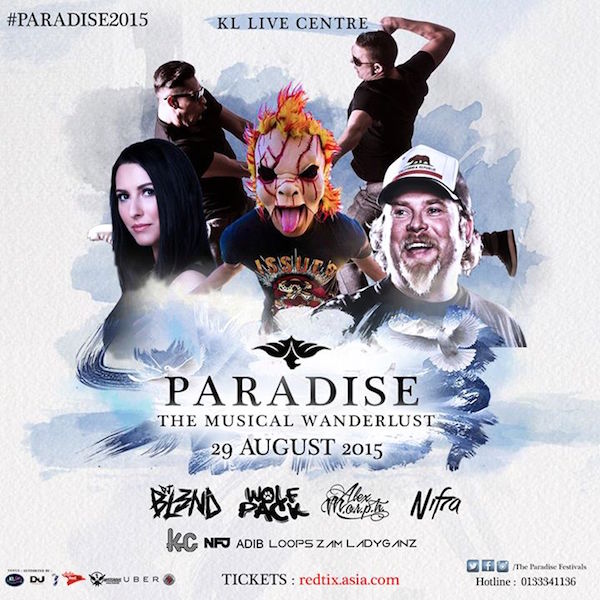 DJ BL3ND (#78 DJMag)
WolfPack (#84 DJMag)
Alex M.O.R.P.H.
Nifra
KC
Adib
Ladyganz
Loops Zam
NFJ
Hyped By: MC Quickload
Ticketing Information:
Early bird: RM 128.00 SOLD OUT
Normal: RM 158.00 (1 day pass) / RM 288.00 (2 day pass)
VIP: RM 258.00 (1 day pass) / RM 458.00 (2 day pass)
Hotline: +6013 3341136
Ticketing Hotline: +603 87754666
Online Booking: redtix.airasia.com/ / redtix.airasia.com/Events/ParadiseFestivalTheMusicalWanderlust/#
Ticket Outlets:
The Gardens, Mid Valley – +603 22014893
Subang Parade – +603 56131139
The Curve – +603 77331139
Bangsar Village – +603 22021139
Victoria Music Outlets:
Sg Wang – +603 21487208
Amcorp – +603 79560592
Tropicana – +603 77222955
Penang Outlets:
Artist Gallery, Gurney Plaza
Artist Gallery, Queensbay Mall
For More Information:
Phone: +6013 3341136
URL: www.theparadiseevent.com/
TW: twitter.com/ParadiseEvent_
FB: www.facebook.com/pages/The-Paradise-Festival/764302766968687
VVIP & Cabana Packages: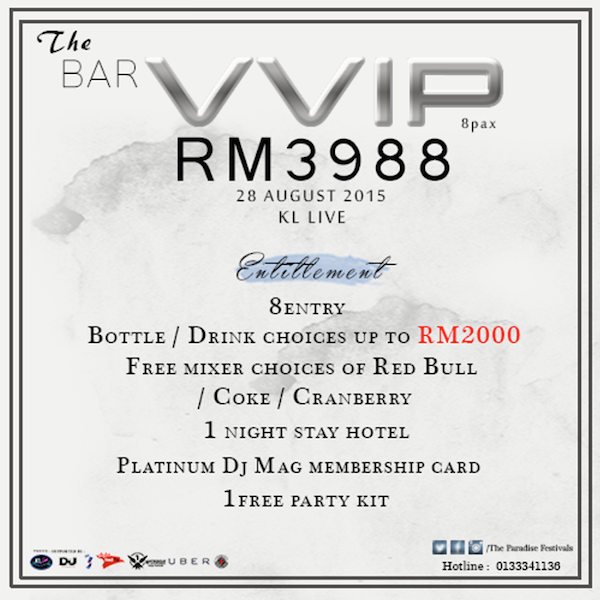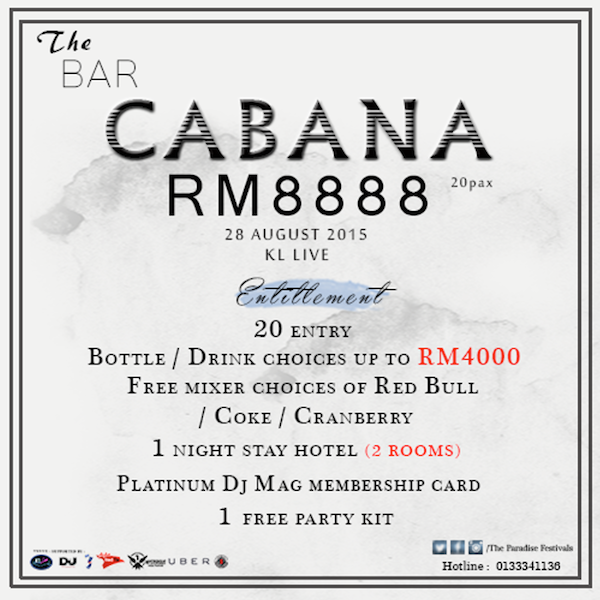 Layout: