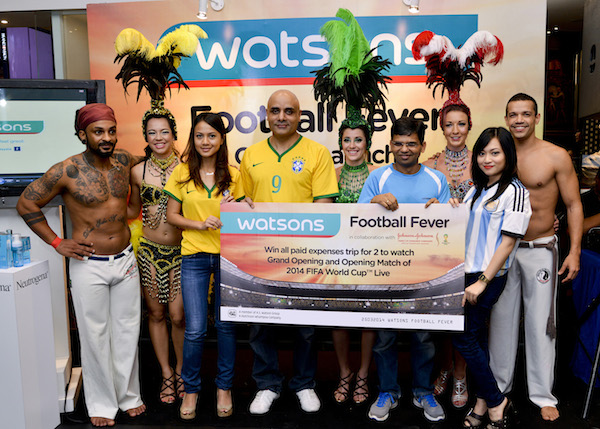 As the 2014 FIFA World Cup™ countdown begins, the football fever is starting to grow among the ardent fans. To celebrate this occasion, Watsons Malaysia has once again announced an exciting sale campaign for its customers today.
Under the campaign, titled as Football Fever Sale, Watsons Malaysia will initiate multiple engagement programmes to reach out to its football fans including celebrity endorsement, contest for fans to be guest on renowned Astro television shows, online football game and football fever activities at selected stores.
Speaking at the event Mr. Kulvinder Birring, Managing Director of Watsons Malaysia and Indonesia said, "As a leading retail brand, Watsons Malaysia is always in tuned with our customers' lives. This is not the first time we have celebrated football with sports enthusiast. We had a great programme with last year's Watsons Malaysia Cup 2013. This year, since 2014 FIFA World Cup is just around the corner, we wanted to connect with football lovers and give them a once in a lifetime experience by working with Johnson & Johnson to give our customers a chance to see 2014 FIFA World Cup™ in Brazil. Apart from that, our customers can also stand a chance to win other money-can't buy experiences such as appearing on Astro's popular sports TV shows."
The first phase of the campaign offers six football fans to stand a chance to appear on prominent Astro television shows Astro Supersports Football Overload with Reem Shahwa and Astro Arena Bola @ Mamak with Dayang Zainatull to talk football with them.
"Individuals who spend RM150 at Watsons stores can submit their entry at Watsons Malaysia Facebook and tell us why they should share the limelight with celebrity host Reem Shahwa, host from Football Overload and Dayang, host from [email protected] which saw famous appearance by many celebrities and footballers," he added.
Watsons Malaysia has collaborated with Johnson & Johnson to kick off the second phase of the campaign which is an online Football Game exclusive for Watsons Facebook fans. Customers who spend RM25 on Johnson & Johnson products can log on to Watsons Malaysia Facebook page (apps.facebook.com/jnjwatsonskickoff) to play the online game and be top 100 scorers to go to semi finals for a Live Kick Off. The contest will be open from 6 March – 23 April 2014. Top 100 winners will also receive exclusive jerseys while top 10 players will be invited to compete against each other at the Final LIVE tournament at 1 Utama Shopping Centre. Event will be held from 30th April to 4th May 2014. One lucky grand prize winner will walk away with two all paid trip to 2014 FIFA World Cup™ Grand Opening Ceremony and Opening Match at San Paulo, Brazil.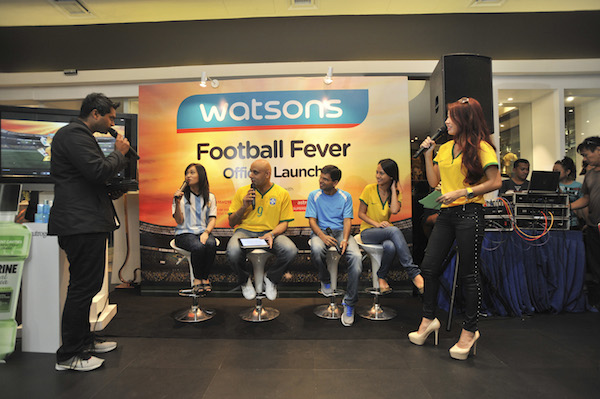 "We are not ending at the contest. During the month of Watsons Football Sale, from 1 to 24 April, Watsons will have discounts and promotions up to 50% and will also host several activities at selected mall whereby our football ambassadors will have mystery gift to Watsons' members who wear jersey. Pre-announcements will be posted on Watsons Facebook Page," explained Mr. Birring.
For more information about Watsons Football Sale, please visit www.facebook.com/watsonsmalaysia or Watsons official website www.watsons.com.my . Don't forget to 'Like' our facebook page!