K-Pop fever has taken the world by storm and become a mainstream phenomenon in Malaysia. Riding the Hallyu Wave, Sunsilk teams up with Korean superstars, MBLAQ, to give girls a chance to dance their way to Seoul. Three lucky girls will win a trip to Korea this June, where they will have the opportunity to get up close and personal with members of MBLAQ.
Themed the Sunsilk Sweet Trip, Sunsilk hopes to provide girls with the freedom to indulge in fun-filled activities without worrying about the state of their hair and appearances. This goes hand in hand with Sunsilk's mission to inspire confidence in girls so that they live life to the fullest. Infused with Keratin Yoghurt Nutri Complex™ and the power of five natural oils, Sunsilk Smooth and Manageable helps to transform hair from unruly to manageable and minimise friction between individual hairs for ultimate smoothness.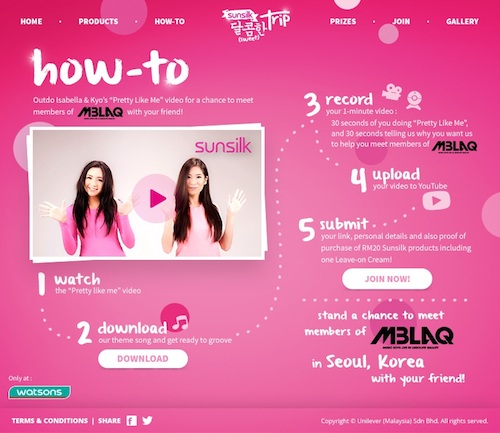 "Sunsilk is a young, fun and exciting brand always looking to shake things up and surprise our girls with initiatives that encourage them to pursue unique opportunities. Inspired by the K-pop culture that exuberates fun and upbeat energy, the Sunsilk Sweet Trip is about giving girls a chance to achieve more with hair that stays in shape all day. In keeping with this, we decided to collaborate with K-pop stars, MBLAQ, to give girls an experience they will never forget," said Ashlee Ng, Brand Director for Personal Care, Unilever (Malaysia) Holdings Sdn. Bhd.
"MBLAQ is excited to be part of this collaboration with Sunsilk Sweet Trip. This will be the first experience for MBLAQ to meet with their Malaysian fans in their own hometown, Seoul. It is such a great honour for and we are looking forward to spending time with these lucky winners." said Dongwon Cho, CEO of MBLAQ's management.
To join the contest, girls need to upload a video of themselves dancing along to Sunsilk's Pretty Like Me song. The video has to be submitted online to Sunsilk's portal, complete with proof of purchase of at least RM30 of Sunsilk products and one leave-on cream. Three lucky participants will be selected to go on the Sweet Trip – a three-day, two-night trip to Seoul, Korea, where these girls have the chance to meet members of K-pop boyband, MBLAQ. These winners can also each bring along one companion to experience this exciting opportunity.
The winners with the best dance videos will be hand-picked by both Sunsilk and MBLAQ representatives, ensuring that the videos encompass the free spirit of a Sunsilk girl and the dance moves of a K-Pop enthusiast. Announcement of the winners will be done on (website link).
The Sweet Trip campaign will run from (date) to (date). For more information, please visit www.facebook.com/SunsilkMalaysia.
###