TP-Link and Neffos today announced their exciting range of products, designed specifically to offer consumers a seamless viewing experience, be it at home or on-the-go. The new range of products from Neffos comes packed with FullView Display, larger battery capacity, Arcsoft registered photography capabilities and latest dual-band Wi-Fi technology.
The event unveiled the latest Neffos full-view smartphone range which include the Neffos X9, C9, C9A, and the Neffos C7A while TP-Link unveiled the Deco M9 Plus, TP-Link's first mesh Wi-Fi system with smart hub functionality. Teasing the arrival of new innovation, Neffos also showcased its first smartphone with built-in laser projector capable of displaying a 200-inch image.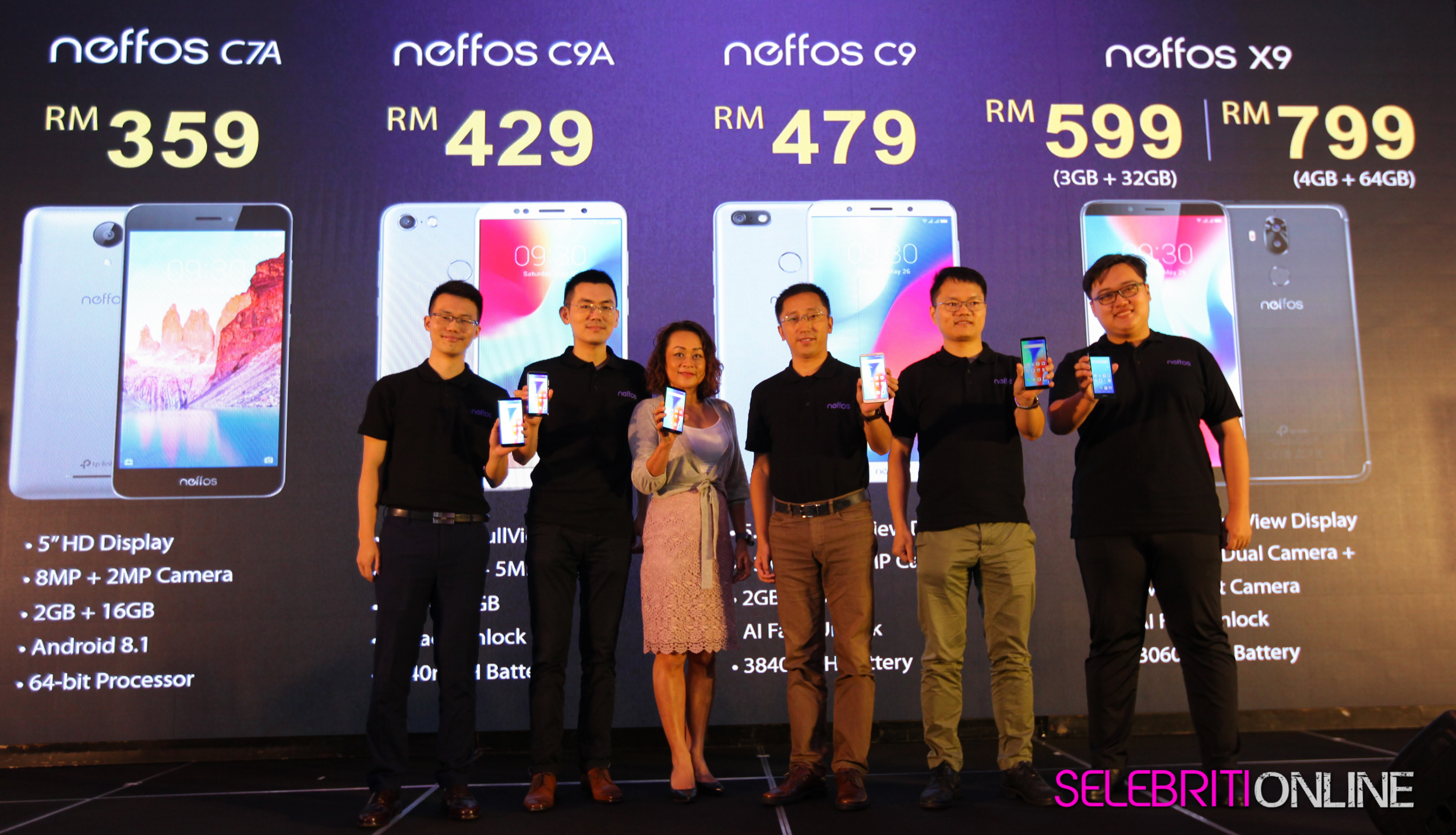 Present to officially unveil the new range of product was Jason Xu, Chief Executive Officer, Neffos, who said, "The belief that excellent smartphones need not be priced over-the-top lies at the foundation of our success, and the new range of Neffos smartphones are designed to prove that. We believe in our continued efforts and hope to drive TP-Link and Neffos' sales and share growth in Malaysia and across the globe."
Hugo Cai, Director of TP-Link Distribution Malaysia Sdn Bhd, said, "We believe that these new additions will bring more variety to our loyal customers, thus giving them more value with their choice of smartphones. We will continue to provide quality smartphones with the best prices combined together with our unsurpassed aftersales services, our customers can be confident with every smartphone that they purchase."
Neffos X9
The new Neffos X9 boasts an advanced dual-camera system around the back and a large Full-View Display on the front — and incorporates them into an attractive polycarbonate body with a premium metallic look and feel.
Built for capturing moments that matter, the Neffos X9 is equipped with 13- and 5-megapixel rear cameras, and 8-megapixel camera on the front. It comes equipped with phase-detection auto-focus while the f/2.0 aperture lens allows for greater depth of field, resulting in a more dramatic effect.
Sporting a massive 5.99-inch Full-View touch display, it runs at HD+ resolution using in-cell technology and engineered to deliver a sharper and more vivid picture. Designed with user comfort and convenience in mind, the Neffos X9 has a fingerprint sensor on the back and face Unlock with the latest AI technology incorporated into the front camera, capable of scanning over 100 different facial details to pixel-level accuracy.
The Neffos X9 will come in two variants, 3GB RAM with 32GB internal storage and 4GB RAM with 64GB internal storage. Both variants will be available in two colours – Space Black and Moonlight Silver. The Neffos X9 3GB with 32GB internal storage variant is now available in stores in Malaysia at an amazing retail price of RM599, meanwhile the Neffos X9 4GB with 64GB internal storage variant will be available at the end of August for RM799.
Neffos C9 and C9A
The C9 features an 8-megapixel Softlight Camera on the front, while the C9A has been outfitted with a 5-megapixel Softlight Camera that captures your face in the best way possible, be it at night or in a dimly lit environment.
Equipped with the 13-megapixel rear camera's lower-aperture lens and phase-detection auto-focus system, the Neffos C9 and C9A can capture sharp and detailed photos from day to night.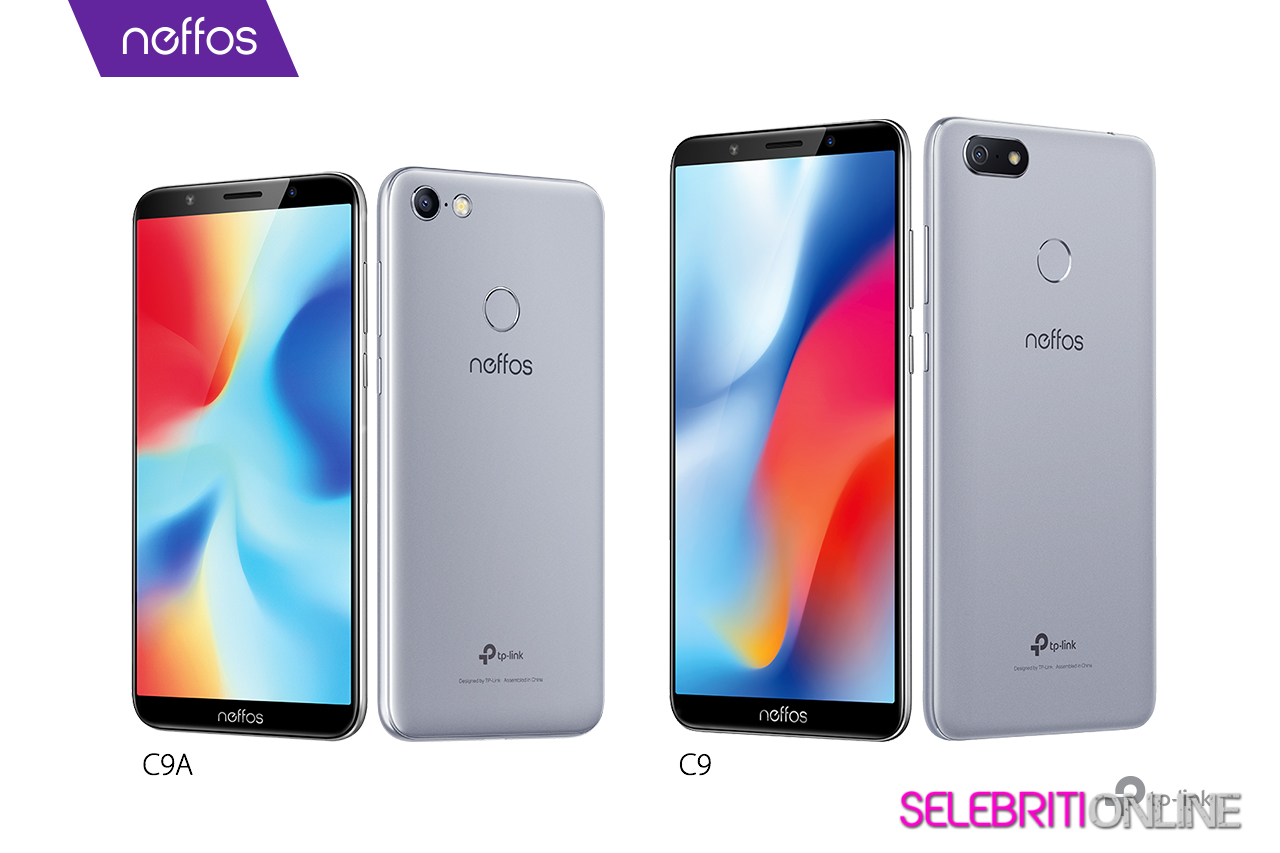 Both models come in generous sizes, with the C9 and C9A sporting 5.99- and 5.45-inch screens, respectively, featuring an impressive 18:9 aspect ratio and HD+ resolutions.
Both the C9 and C9A will be available in two colours – Cloudy Grey and Moonlight Silver. The Neffos C9A is now available in stores nationwide at an affordable price of RM429 while the Neffos C9 will be available at the end of August 2018, priced at RM479.
Neffos C7A
The Neffos C7A is yet another fantastic budget entry that promises uncompromised design and performance backed up by an attractive price point.
It is powered by a 64-bit, quad-core processor coupled with 2GB of RAM and 16GB of local storage. It comes pre-installed with the latest Android 8.1 Oreo, along with a number of new customizations and UI changes as well as the latest security patches.
The C7A also features a 4G LTE modem with speeds of up to 150Mbps, ensuring speedy browsing experiences and amazing streaming quality. With a bright and colorful IPS display measuring 5 inches diagonally and running at HD resolution, the Neffos C7A is capable of capturing picture-perfect moments with its 8-megapixel, f/2.2 camera at the back with fast auto-focus and LED flash. The selfie camera is 2 megapixels and has an f/2.2 aperture lens as well for snapping brighter shots at night or in lower lighting.
The C7A will be available in Grey colour and will available in stores in Malaysia at the end of August 2018 retailing at RM359.
Neffos P1
The latest and most exciting addition to the Neffos family, the new and groundbreaking Neffos P1 boasts a built-in projector for viewing HD content on a wall with a screen size of up to 200 inches.
To project content directly from the hardware, the P1 uses American military-grade micro-electro-mechanical system or MEMS laser technology and a three-color beam light to produce a clear and high-resolution picture on a flat wall or screen.
To produce the most vivid and detailed picture possible, the Neffos P1 achieves a contrast ratio of 5,000:1, which is much higher than what a standard digital-light-processing or DLP projector is capable of producing. The typical DLP projector has a native contrast ratio of 400:1. The Neffos P1's superior contrast ratio allows for striking visuals in high definition.
The small MEMS projector built into the Neffos P1 also consumes less power, enabling the device to project an image continuously for up to four hours on a single charge of the 4,000mAh battery.
And incredibly, despite housing a projector that can throw a 200-inch image to a wall or screen, the P1 is only 10mm thick and weighs only 203 grams. Those particulars make for a portable and lightweight smartphone-slash-projector that can slip into a person's pocket or bag easily.
TP-Link AC2200 Smart Home Mesh Wi-Fi System Deco M9 Plus
TP-Link's first mesh Wi-Fi system with smart hub functionality, aimed at providing Wi-Fi that's "Fast. Smart. Everywhere". AC2200 Smart Home Mesh Wi-Fi System Deco M9 Plus is the simplest way to guarantee a strong Wi-Fi signal in every corner of homes up to 6500 square feet with three Deco units. Users can enjoy fast, secure Wi-Fi for over 100 connected devices, and take control of all their smart home devices with Deco M9 Plus, with no need to buy an additional hub.
Deco M9 Plus delivers super-fast Wi-Fi to devices in every part of the home. The AC2200 Wi-Fi system transmits three separate wireless bands for combined speeds of up to 2134Mbps: one 400Mbps 2.4GHz band for surfing, online shopping and audio streaming, and one high-speed 867Mbps 5GHz band for lag-free 4k streaming and gaming, with another 867Mbps 5GHz band as backhaul. Smart Connect technology automatically assigns each device to the optimum band to balance traffic and maintain fast connections.
The Deco M9 Plus utilizes a single 5GHz band as wireless backhaul when traffic is light but can count on the other 5GHz band and the 2.4GHz band for backhaul when traffic gets heavy, delivering speeds of over 1000Mbps — ideal for users with gigabit fiber connections. 
Unlike traditional Wi-Fi routers, each Deco M9 Plus unit has a built-in smart hub, bringing all your smart home devices onto one platform. Deco M9 Plus is compatible with smart bulbs, lights, switches, locks, sensors, plugs, cameras and more, including TP-Link and other leading brands. The Deco M9 Plus will be available in Malaysian stores beginning August 2018 retailing at RM999.