Breaking the malaise, in large part due to our current hectic and sedentary lifestyles, Watsons Malaysia brings Malaysian together in its major fitness campaign today entitled 'Move Your Body', to promote active lifestyles among Malaysians. The campaign has been planned as part of the countdown towards this year's World Health Day, and ran from 25th February till 30th March 2014 at all Watsons stores in Klang Valley and Negeri Sembilan.
"Being the leader in the health and beauty retail industry, Watsons Malaysia is known to be the champion in spearheading innovative campaigns to empower the community around us. As we begin the New Year, we want to make a resolution to shape Malaysians by encouraging them to lead healthier lives and to have the right fitness regime. As our brand promise states Look Good, Feel Great, we believe there is beauty in getting fit and hence healthy", said Kulvinder Birring, Watsons Malaysia & Indonesia Managing Director during the opening speech at Sunway Lagoon
As the kick-start to the campaign, Watsons Malaysia worked in partnership with Hitz.FM and Celebrity Fitness to raise awareness through a flash mob which was held on 22nd February 2014 to intrigue the public on the 'Move Your Body' campaign.
"Dance is a creative and fun way to stay active. In fact, it is the largest growing art form for improving health. Through the Move Your Body campaign, we are encouraging communities to get your groove on and have a health and fitness regime," he added.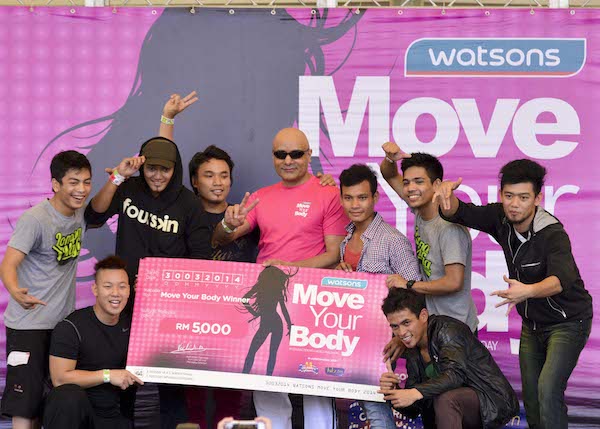 As part of the campaign, individuals created their own dance video and upload it on YouTube whilst submitting it to Watsons Malaysia's Facebook page to stand a chance to win RM5, 000 cash prize. A total of 29 talented Move Your Body videos were submitted by 23 March 2014 but a team of 8 dancers called Art of Extreme Movement (AOXM) stood as the winner for this contest.
During the event the winner of the Move Your Body dance music video showcased their dance moves to inspire Malaysians to start adopting this healthy regime. Prominent Hitz.FM radio jockeys like Ean, Jinnyboy, Ryan, Denise, RD, Arnold, Juanita, renowned YouTube sensations and dance extraordinaire Dennis Yin together with Celebrity Fitness also took part in making the Move Your Body event and dance a happening one.
Watsons's customers were also seen dancing for better health through Move Your Body campaign at Sunway Lagoon 30th March 2014, where parents and kids alike had an enjoyable time in the sun as they join the Move Your Body dance session with Ean and Jinnyboy, other Hitz.FM radio jockeys and Celebrity Fitness learning simple steps to be more active. First 1,000 participants have the chance to receive Watsons goodie bags and everyone gets the all day free entrance at Sunway Lagoon. In addition, there were many prizes for lucky draw to be won during the event. The event also included fun filled activities including face and body painting, mingling clowns and jugglers, and Watsons health supplier booths to provide a holistic yet exciting experience on active lifestyle.
Besides that, Watsons also introduce a 90 days transformation challenge whereby Watsons would want to continue to sustain the momentum and encourage Malaysians to stay fit and healthy. Thirty (30) selected participants will go through a 90 days healthy challenge to help them lose weight and maintain a healthy lifestyle. Winner of this challenge will walk away with more than RM20, 000 worth of prizes.
Also present at the grand finale event were Jessica Ng, Watsons Malaysia's Director of Marketing and Development, Danny Hoh, Watsons Malaysia's Marketing Controller, Celebrity Fitness representatives and sponsors.
Move Your Body campaign is launched in collaboration with Hitz.FM and Celebrity Fitness, with special participating brands such as Salonpas, Optifree, Pharmaton, Naturalle, Redoxon/ Berocca, Blackmores, Scott's, Appeton, Horleys, Kinohimitsu, Brands, Total Image, Ebene, Cetaphil, Zenoctil/Liposinol and Futuro.
For more information about Watsons Move Your Body and 90 Days Transformation Challenge campaign, please visit www.facebook.com/watsonsmalaysia or Watsons official website www.watsons.com.my. Don't forget to 'Like' our facebook page!