At the inaugural Axiata Group (Axiata or Group) townhall staged at the Axiata Arena with over 1000 Axiata and Celcom employees as well as partners, investees and beneficiaries, YAB Dato' Sri Mohd Najib bin Tun Abdul Razak, Prime Minister of Malaysia today witnessed the launch of the Cashless Ecosystem for Malaysia through Boost in conjunction with some of its partners such as SME Corp, AmBank, PLUS, UTM and UiTM. This milestone partnership will serve to expand the cashless ecosystem in Malaysia and enable as many local businesses to tap into the card-less mobile electronic wallet lifestyle.
Boost is now a leading e-wallet with over 1.7mn users with online and offline merchants located in over 8,000 locations. Boost aims to revolutionize the way Malaysian consumers transact by creating a seamless payment experience without cash or cards. It serves the youth segment and mass consumers to merchants at selected pasar malam, food trucks, food courts and across various industries such as F&B, entertainment, transportation, online shopping and bookstores to name a few. As a lifestyle application, users can perform services such as buying prepaid top ups and digital vouchers as well as gifting them, free cash transfers and even "Go Dutch" with its unique split bills feature. They also get instant cash back when using the service with rewarding and addictive experiences.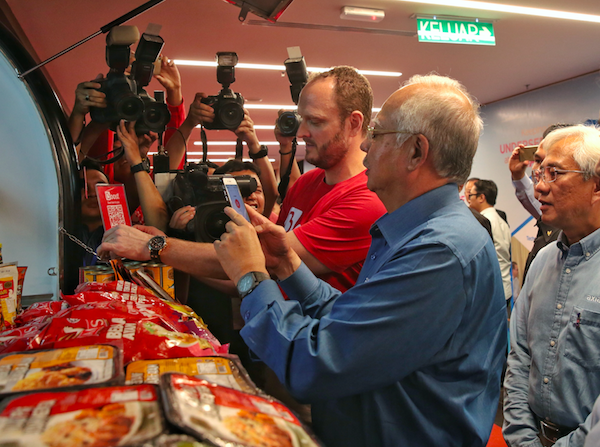 Acknowledging Axiata as one of the leading drivers of Malaysia's digital economy, YAB Prime Minister expressed his support of the Group in spearheading innovative digital and financial inclusion initiatives, especially in addressing small and micro businesses in Malaysia.
Hosted by YBhg Tan Sri Datuk Wira Azman Hj. Mokthar, Chairman of Axiata and YBhg Tan Sri Jamaludin Ibrahim, President and Group CEO of Axiata, the event was further graced by other dignitaries namely, Tan Sri Dato' Mohd Sheriff Mohd Kassim, Chairman, PLUS Malaysia Berhad; Datuk Azman Ismail, Managing Director, PLUS Malaysia Berhad, YM Raja Teh Maimunah Raja Abdul Aziz, CEO, AmInvestment Bank Berhad, Tan Sri Ir. (Dr.) Mohamed Al Amin Abdul Majid, Chairman, SME Corp.; Prof Dr. Hj. Mohamad Kamal Hj. Harun, Deputy Vice Chancellor, UiTM; and Prof. Dr. Durrishah Bt Idrus, Deputy Vice Chancellor, UTM.