Zo In Sung (Spring Day, Memories in Bali) star of That Winter, The Wind Blows has embarked on his publicity tour to Southeast Asia in promotion of his popular Korean drama series on ONE HD (Astro B.yond HD Ch 393).
In Kuala Lumpur today and in Singapore tomorrow, Zo keeps his date with the media and fans of both cities in promotion of the beautifully shot and romantic 16-part That Winter, The Wind Blows. The touching drama series is set to re-run by popular demand from 1 June 2013, airing in dual sound on Saturdays and Sundays at 3.15pm on ONE HD.
Zo will first meet with members of the local media in the afternoon before gracing ONE HD's meet-and-greet event at Paradigm Mall, Upper Atrium Level UG on 21 May 2013 at 7.30pm. He will relate his experiences from shooting That Winter, The Wind Blows at the mall event which is open to the public. Lucky subscribers of ONE HD who have received passes from Astro will get a chance to get up close and take a photo with him!
"ONE HD serves up some of the most popular Korean entertainment programs including top titles that air just weeks after their Korea debuts, but we are always looking to offer more. There is no better reward than bringing the stars of our audiences' favourite programs to them. We are proud that Mr Zo In Sung shares our passion to engage with the fans of That Winter, The Wind Blows and warmly welcome him to Southeast Asia," said Ricky Ow, Executive Vice President and General Manager, Networks, Asia, Sony Pictures Television.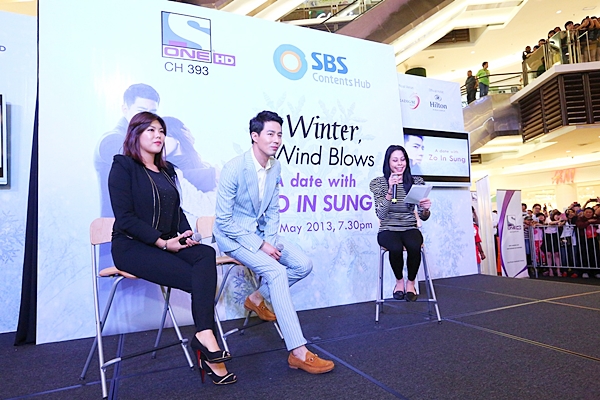 ONE HD's That Winter, The Wind Blows is the blockbuster Korean drama series to date in 2013 with a touching story, excellent writing, and visuals to match, brought to life by a brilliant cast. Leading man Zo stars opposite Song Hye Kyo (Full House, The World That They Live In), both making their comebacks to TV with this series. That Winter, The Wind Blows is Zo's first TV drama in eight years since Spring Day in 2005, and his first acting project since completing mandatory military service in 2011.
In That Winter, The Wind Blows, Zo plays Oh Soo, an orphan who gives up on life after losing his first love, gets obsessed with gambling and becomes a con-artist. His next target is Oh Young, played by Song, the sole heiress to a large corporation after tragically losing her parents and her eyesight. He tries to get near Oh Young by pretending to be her long-lost brother. Henceforth, these two individuals, isolated in their own ways from the world, begin to understand the meaning of life together.
ONE HD's premiere broadcast of That Winter, The Wind Blows from 13 March – 2 May 2013 was the No. 1 rated show in its timeslot among international channels in Malaysia and Singapore for pay-TV audiences 4+.
Powered by prime and current South Korean entertainment, ONE HD is the exclusive destination of programs produced by Seoul-based content supplier and broadcaster SBS through an output deal. ONE HD airs the latest Korean drama series, with selected titles premiering 3 – 5 weeks after their debut broadcasts in Korea. In addition, the hippest ongoing K-pop variety and music programs complement the channel's drama line-up.
ONE HD is very popular in Malaysia where among pay-TV 4+ audiences, it is the No.1 rated high definition (HD) channel, with the longest average viewing duration among all HD channels on Astro, of 100 minutes per viewer each day.
Zo In Sung's visit is the fifth promotional tour organized by ONE HD, following actor Jang Hyuk in January 2011 to promote Midas; Lee Dong Wook and Kim Sun-A in December 2011 for Scent of A Woman; K-pop boy group BTOB in June 2012 to perform in Jakarta; and budding actor Lee Hyun Woo in promotion of To the Beautiful You in October 2012
[nggallery id=159]