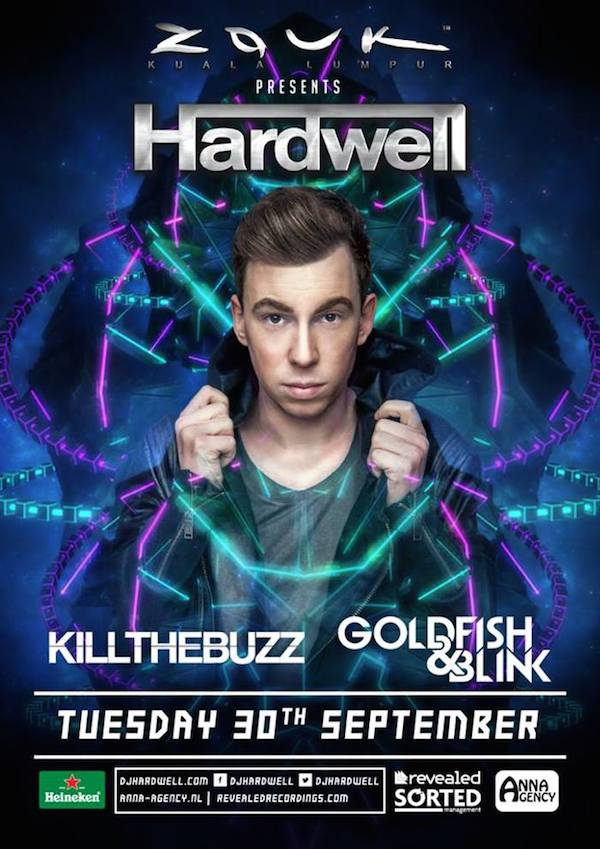 About Hardwell
Music maturity came swiftly for the now seasoned-veteran Robbert van de Corput, better known as Hardwell. At the age of 25, the young Dutch titan capped off a 10 year journey when he was crowned World's No.1 DJ in the 2013 DJ Mag Top 100 DJs Poll cementing his position as the electronic scenes newest superstar DJ and becoming the youngest ever winner of the coveted Top 100 DJs award. Having already created a legacy that would put most of his counterparts to shame this award-winning DJ, producer, musician, label manager, lover of all things music has not only helped shape the current state of EDM, but has left an everlasting imprint on it.
Like his great mentor Tiësto, Hardwell proudly hails from Breda, a city tucked deep within the Netherlands. Having first established his name at the tender age of 14, Hardwell has since elevated his clubland standing to impressive, dizzying heights. His serving of big room bangers over the past year has seen a bundle of anthems sweep charts and dancefloors worldwide. Label boss of Revealed Recordings and having landed 6 consecutive #1's on Beatport, his studio output has never been more prolific or more on point. Records such as his anthemic hit 'Spaceman', 'Three Triangles (Losing My Religion)', 'Countdown', 'Jumper', alongside the hard-hitting track, 'Apollo' and his scorching collaboration with Dyro and Bright Lights, 'Never Say Goodbye' became some of the most played tracks this summer 2013.
Through his refreshing sound that is characterized by complex drum ensembles, daring synths, and emotive chords, Hardwell has created the ultimate recipe for "Big Room House". His productions are received with such great praise and acclaim; it seems his shelf life is endless. As his reputation grows amongst the world's partygoers, so does his status. First entering the DJ Mag Top 100 DJs Poll at #24 in 2011, Hardwell rose to #6 in the 2012 edition of the poll, before being crowned World #1 DJ in the 2013 poll – seeing off fierce competition from the likes of Avicii and Armin van Buuren and following in footsteps of electronic icons Tiësto and David Guetta.
The "fresh and open-minded" approach he has taken with his label Revealed Recordings has led to the imprint gaining international momentum and having produced a cluster of hits since its inception back in 2013, as well as giving rise to a new generation of artists that included Dyro, Dannic, Julian Calor and Kill The Buzz. Another success in the labels armoury is its celebrated compilation series 'Hardwell Presents Revealed' which offers listeners a true box ready taste into the current trends at the heart of the labels musical output.
Moreover, his record label Revealed Recordings has also grown to become a dominant force as a globetrotting tour brand in its own right named 'Hardwell presents Revealed', having staged events in America, Greece, Switzerland, Austria and Netherlands.
In March of 2011, Hardwell launched his very own radio show and podcast, Hardwell On Air, which is broadcasted on more than 35 international radio stations, including Holland's top dance station, SLAM!FM, Sirius XM in the US, and Radio FG in France and Belgium. Additionally, the podcast has a solid spot in the iTunes Top 10 Podcasts in more than 40 countries.
As a producer his ratio of releases to hits is extraordinary. In 2011 his collaboration single with Tiësto – 'Zero 76' was one of the biggest club tracks of that year and to date the music video has received over 14 million views on YouTube. The single went #1 in the Beatport and #1 in the US iTunes chart. That same year his solo record 'Cobra' went to #1 in the dance charts in Holland and Top 10 on Beatport.
2012 saw even more success with his remixes of Rihanna's track 'Where Have You Been' and The Wanted's 'Chasing the Sun' both reaching #1 on Billboard's Dance Chart. His collaboration remix with Dannic for UK pop star Example's, 'Say Nothing', received a #1 spot in the Cool Cut Chart, while Tiësto and Hardwell's remix for 'Young Blood', by the indie rock band The Naked And Famous, became the festival circuit's summer anthem.
Hardwell also collaborated alongside Showtek to produce the track 'How We Do', with the music video premiering on MTV US. However, Hardwell's biggest track of 2012 was the solo-original known as 'Spaceman', which is regarded by media critics and peers alike as one of the EDM scenes biggest timeless anthems. 'Spaceman' was released in over 25 countries worldwide, scored a #1 place in the Beatport chart and to date has clocked in more than 15 million views on YouTube.
At the tail end of 2012 Hardwell released the hard-hitting organic track, 'Apollo', featuring Amba Shepherd. Much like its predecessor, 'Apollo' would propel Hardwell's name into the spotlight and ignite a global phenomenon around his infectious releases and DJ sets. Such was the foray around his name at this time that dance music icon Pete Tong invited Hardwell to make his debut on the hallowed decks of BBC Radio 1's Essential Mix in November 2012, where Hardwell's prowess was so distinctively displayed.
Having featured for the first time on the mainstage of Ultra Music Festival only one year prior (2012), Hardwell's position as a mainstage stealing DJ was affirmed in 2013 when he returned to the renowned Miami event. Armed with a body of fresh and unheard music, most notably is landmark hit single 'Never Say Goodbye', his performance at the 2013 Miami Ultra Music Festival would go on to become the thing of legends. Clocking up a staggering 6 million views in just 8 weeks, Hardwell's set broke all records for the most watched Ultra live broadcast during UMF with over 80,000 people watching his set via the feed. During his set, Hardwell's Twitter account was using 20% of Twitter's overall bandwidth with his name was trending worldwide with such intensity that it caused Twitter to temporarily shut down his account – yes, he broke Twitter!
Following on from his 2012 Tomorrowland set, which to date has received over 18 millions views on YouTube and was dubbed by many as a contender for the best set of the year, Hardwell returned to the mainstage of Tomorrowland in 2013 where he played yet another inimitable set that took a frenzied Tomorrowland audience on a ride of a lifetime. This time the liveset amassed in excess of 1 million views in just a few days and has currently been viewed over 12 million times on YouTube; the inexorable rate at which his DJ sets are viewed by fans around the world has made him the single most in demand liveset artist in the electronic scene today.
A true festival–straddling superstar his sets have conquered arena's at the most prestigious and crowd-pleasing of parties in the world such as Ultra Music Festival Miami, Electronic Daisy Carnival Las Vegas, Electric Zoo, Creamfields, UMF Europe, Coachella, EDC London, Future Music Festival, TomorrowWorld, Global Gathering, Mysteryland, Dance Valley and various Sensations, including Amsterdam's. At each and every show his fans litter the crowd awash in banners, flags and t-shirts' bearing his name. A gesture Hardwell still finds touching, stating; "the commitment and effort the fans put into the shows with their signs and energy on the dancefloor is incredible. I'll never be able to thank them enough."
As a DJ his global headliner status has led to endless sold-out shows around the world at venues from Ministry of Sound in London to Green Valley in Brazil. Debuting in Ibiza in 2010 when he was personally invited by Tiësto to perform with him at his now legendary Club Life event at Privilege. Hardwell's 2013 Ibiza excursion saw him grow into one of the biggest headline acts on the island with roadblock shows at Ushuaia, Pacha, Space, Cream @ Amnesia, plus Cream's Radio 1 live event @ Privilege, and led to him winning the 'Electro House DJ Award' at the 2013 DJ Awards in Ibiza.
However, it is perhaps his impact in the North American scene that has been the most impressive. Kicking of 2013 with a nationwide Revealed Presents Canadian Bus Tour, Hardwell, joined by support DJs Dyro and Dannic, took in country's finest clubs from New City Gas in Montreal to The Guvernment in Toronto and left a colossal marker of musical intent. His exclusive residency at Hakkasan Las Vegas with his 'Go Hardwell Or Go Home' event series has cemented his position as one of the forerunning DJ stars in the US club scene, generating much acclaim from the worlds media and clubbers alike. This was also followed with a nationwide 'Go Hardwell Or Go Home' tour that took in venues across America.
In April 2013 Hardwell launched his most ambitious project to date when he unveiled his I Am Hardwell world tour concept at Amsterdam's Heineken Music Hall to a 6000 capacity crowd. A spectacle of unprecedented musical vision and production detail, the entire show was broadcast live on a HD feed to 100,000's of fans around the world and placed a solid marker to the immense popularity of Hardwell's position within the dance community. After the successful kick off of his I Am Hardwell World Tour in Amsterdam last April, Hardwell is now on the road with worldwide travels for this new tour new concept. The first phase of the tour saw sold-out shows in Jakarta, Singapore, Bangalore, Mumbai, Lisbon, London, with further shows coming in Cape Town, Johannesburg, Mexico City, Tel Aviv, Guatemala City, Manchester, Sao Paulo, Brisbane, Melbourne and Sydney coming up, I Am Hardwell is set to become one of the must see shows of 2013/2014.
In October 2013, during Amsterdam Dance Event, Hardwell held the world premiere of his 'I Am Hardwell' documentary in Amsterdam's oldest and most famous cinema, Tuschinski. The documentary provides a captivating inside-look on Hardwell's rise. With the motto – "If you can dream it, you can do it". The film is now being shown in selected cinemas around the world.
But it is his relationship with his fans which sets him apart from his peers. Through his popular Q&A series on YouTube Hardwell's personal side is displayed, where he answers the most begging of questions his fans have to offer. As said by Hardwell himself, "With the opportunities of social media today, it's super easy to be in direct contact with your fans, however it's impossible to respond to each and everyone through Twitter or Facebook. That's why I came up with this idea, to give my fans the opportunity to ask me their questions and to have the chance to answer them in a fun and engaging way!" And talking of social media his meteoric rise up into the higher echelons of the dance community has seen his fan base swell in recent months. With over 2.2 million likes on Facebook, more than 900k on Twitter and in excess of 120 million hits on his YouTube channel, Hardwell is also rapidly solidifying his place as one of the electronic scenes most 'clicked on' artists.
The rise of Hardwell as a young boy from the city of Breda into a ripened international super-heavyweight has become an inspiring tale for all. Coming full circle from a dream to reality of wanting to become the '#1 DJ in the World', we can be assured that the Hardwell name, face, and brand is a force that will drive electronic dance music for years to come….
www.djhardwell.com
www.twitter.com/hardwell
www.revealedrecordings.com
www.facebook.com/djhardwell
For More Info TBA: Stay tunes!
For More Information:
Phone: +}603 21711997
Email: info@zoukclub.com.my
URL: www.zoukclub.com.my/
TW: twitter.com/zoukclubkl
FB: www.facebook.com/zoukclubkl