The largest sports media property in Asian history, ONE Championship™ (ONE), electrified the iconic Stadium Negara with another evening of world-class mixed martial arts action. Fight fans in Malaysia were on the edge of their seats as the best in local and international mixed martial arts talent battled it out inside the ONE Cage. In the Malaysia Warrior Bout main event, Malaysia's own Ev "E.T." Ting defeated the Philippines' Eric "The Natural" Kelly by submission and took the time to call out reigning champion Marat Gafurov in the post-fight interview.Thank you to organizer Metros.Event because i'm won the two bronze tickets to watch this event. You can check Metros.Event at www.metros.events . 
In the Malaysia Warrior Bout main event, an exhausted Ev Ting pulled out a gutsy victory over Eric "The Natural" Kelly of the Philippines, winning by submission in round three. Ting dominated the striking exchanges throughout the bout, blasting Kelly with various combinations. Kelly spent most of his time defending against Ting's aggression, biding his time and pacing himself for a distance finish. In the third, Ting latched on a standing Guillotine that transitioned into a mounted Guillotine, leaving Kelly no choice but to tap out.
Eduard "Landslide" Folayang of Baguio City, Philippines showcased Team Lakay's famous Wushu base by dominating opponent Tetsuya Yamada of Japan over three rounds. Folayang completely shut down Yamada, keeping the Japanese fighter at the long end of his straight right hand and occasional spinning back kick. Folayang also landed various flush shots and stuffed numerous takedowns to earn the unanimous decision victory.
Former American freestyle wrestler Jake Butler returned to action against mixed martial arts veteran Tatsuya Mizuno to win by first round stoppage. Butler controlled the Japanese fighter with his world-class wrestling from the opening bell, pulling Mizuno down to the canvas on a successful takedown. From there, Butler unleashed a series of elbows from top position, finishing Mizuno with only a few seconds remaining in the first round.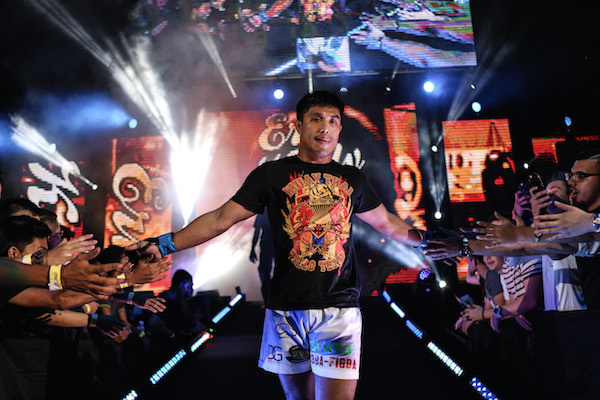 Geje "Gravity" Eustaquio scored an electrifying first round knockout over Malaysia's Saiful "The Vampire" Merican. After a brief moment where both fighters took the time to size each other up, Merican lunged in looking to put together a combination but Eustaquio took a step back and unleashed a counter left hook as Merican was coming in. With Merican face down on the mat, the referee stopped the bout after a technical ground kick landed for good measure.
Samir Mrabet of Brussels, Belgium remained unbeaten in a second-round submission victory over Sami Amin of Cairo, Egypt. Mrabet controlled the action on the ground, grinding away against Amin who tried his best to defend. The end came when Mrabet secured mount and worked on the Head and Arm Choke to seal the deal. 
Keanu Subba and Rayner Kinsiong brought some local flavor into the mix with an all-Malaysian lightweight bout. After a brief exchange of strikes, Subba dumped Kinsiong to the mat via an outside leg trip. From top position, Subba landed a plethora of downward punches as the referee intervened to stop the bout.
Former Pankration world champion, Christian "The Warrior" Lee made quick work of Egypt's Mahmoud Mohamed, continuing his fast rise through the featherweight ranks with a crafty submission victory. Lee swarmed Mohamed with lightning quick punches from the opening bell. An emphatic slam put Mohamed on his back and from there, Lee put the finishing touches on a Single-Arm Chicken Wing, forcing Mohamed to tap out.
Colossal ONE athletes Agilan "Alligator" Thani of Malaysia and James Kouame of Canada induced a stream of cheers from the Kuala Lumpur crowd with their intense middleweight matchup. Thani impressed with various successful takedowns throughout the bout. In round two, after a slam led to full mount, Thani worked on ground-and-pound before seizing the opportunity for a fight-ending Rear Naked Choke 
Saygid 'Dagi' Guseyn Arslanaliev impressed fans in his ONE Championship debut with an all-out, aggressive style, taking care of business against Jakarta, Indonesia's Mishal Alfad in just under a minute. 'Dagi' put on a showcase of powerful strikes and emphatic slams and after a Suplex put Alfad on his back, 'Dagi' went straight for the ground-and-pound to force the referee stoppage. 
Female ONE athletes Jenny Huang of Chinese Taipei and Amira Badr of Egypt kicked off the action at ONE: CLASH OF HEROES. Huang dominated both the first and second rounds with her boxing until she finished the bout by Triangle Choke submission in round two.
Official results for ONE: CLASH OF HEROES
Featherweight Malaysia Warrior bout: Ev Ting defeats Eric Kelly by Submission (Mounted Guillotine) at 1:58 minutes of round 3
Lightweight bout: Eduard Folayang defeats Tetsuya Yamada by Unanimous Decision
Catchweight bout (95kg): Jake Butler defeats Tatsuya Mizuno by TKO (Strikes) at 4:30 minutes of round 1
Catchweight bout (66.8kg): Geje Eustaquio defeats Saiful Merican by Knockout at 1:21 minutes of round 1
Lightweight bout: Samir Mrabet defeats Sami Amin by Submission (Head and Arm Choke) at 1:31 minutes of round 2
Lightweight bout: Keanu Subba defeats Rayner Kinsiong by TKO (Strikes) at 2:01 minutes of round 1
Featherweight bout: Christian Lee defeats Mahmoud Mohamed by Submission (Single-Arm Chicken Wing) at 2:20 minutes of round 1
Middleweight bout: Agilan Thani defeats James Kouame by Submission (Rear Naked Choke) at 1:12 minutes of round 2
Lightweight bout: Saygid Guseyn Arslanaliev defeats Mishal Alfad by TKO (Strikes) at 0:32 minutes of round 1
Female catchweight bout (49kg): Jenny Huang defeats Amira Badr by Submission (Triangle Choke) at 3:09 minutes of round 2