Amara Hotels & Resorts, Singapore's leadinghospitality group, is pleased to announce the upcoming opening of Amara Signature Shanghai in the historical ChangshouRoadcommercial zone. Following the successful launchesof Amara Singapore, Amara Sanctuary Resort Sentosa and Amara Bangkok, the Shanghai outpost isthe first under the newluxurybrand, Amara Signature.Committed to the group's service values of 'entrepreneurial, thoughtful, simple, trustworthy', Amara Signature Shanghai offersguests an extraordinary space and personalised serviceto ensureevery moment counts.
"Changshou Roadcaptures aunique and strong sense of place with the historical buildings, storied past, colourful culture and city vibe", says Mr. Henry Lee, General Manager of Amara Signature Shanghai. "Amara Signature Shanghai is set to become a new landmark for the city, upgrading the business districtin the neighbourhood, meeting the needsof local customers for exquisite lifestyle and social venues, and offering a perfect stay for domestic and international travellers who want to explore a different side of Shanghai".
Amara Signature Shanghai is set to become a social destination for guests, with food aficionados diningat ourrestaurants, and entrepreneurs and executives gathering at our meeting venues. The hotel also planstohost a vibrant series of events tofacilitateinteraction andgreat collaborationsamong the business communities.
Conveniently located at the intersection of the bustling Changshou Road and Jiaozhou Road, Amara Signature Shanghai is only a few minutes' walk from metro lines 13 and 7, a quick 10-minute drive away from the prestigious and fashionable business and shopping district of Jing'an, a 30-minute drive from Shanghai Hongqiao International Airport and 50-minute from Shanghai PudongInternational Airport.
Changshou Road is one of the main roads in the west downtown area, dotted with an alluring array of fashion, leisure and lifestyle shops. As the first international five-star hotel in the area, Amara Signature Shanghai is poised toboost revival of the Changshou Road commercial zone.中国上海长寿路 600 号 600 Changshou Road, Shanghai, China. shanghai.amarahotels.
Amara Signature Shanghai comprises 343 spacious rooms and suites between the 7th and 30th floors, with each room featuringfloor-to-ceiling windows overlooking the vibrant city. Ranging from 32 to 149 square-metres, the rooms capture a welcoming ambiance with classic interiors, comfortableplushbeddings and modern bath furnishings.Eachroom is equipped with complimentaryWi-Fi and a 43"-55"flat-screen TV with satellite channels.
Food and beverage establishments include BLU, an all-daydining restaurant offeringsumptuous ala carte and buffet selections featuringSingaporean, Japanese, Western and local Chinese cuisines; stylish lobby barFLOis an ideal location for guests to socialise over finewines, refreshments and music. The boutique in the lobby, Grab N Goserves healthy delights produced from organic and locally-grown ingredients for the health conscious, as well as exquisite souvenirs to bring home.
Occupying an expansivearea of 1,100 square-metres, the Grand Ballroom along with ten multi-purpose function rooms areequipped with state-of-the art facilitiesspecially designed for events and conferences of all scalesand200 parking spacesavailable in the basement.
The stylish outdoor pool is a perfect oasis in the bustling city.Thespacious round-the-clock fitness centre boasts the latestTechnogym equipment and customised workout programmes led by expert trainers.
Guests who stay on the Amara Club Floorscanalso enjoy special services and facilities, including:
• Access to the exclusive Amara Club Lounge with panoramic views of the city, serving daily breakfast, afternoon tea and evening cocktails
• Personalised 24-hour butler serviceincluding shoe shining and pressing services
• Complimentary use of meeting room facilities
• Express check-in and check-out
• Pillow menufor personalised, restfulsleep
• Free Press Reader app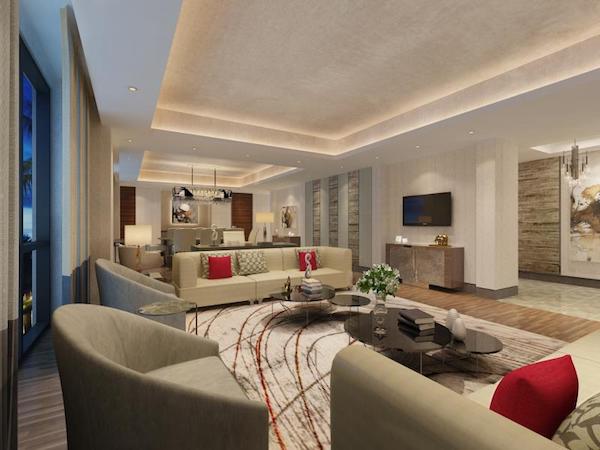 Amara Signature Shanghai is adjacent to100AM Shanghai,a 10,500 square-metrecomplexcomprising a officetowerand a retail mallthatoffersa curated selection of fine brandsand dining outlets.