honor Malaysia, together with Mobile Legends, honor's exclusive partner for the highly-popular mobile game, recently held a mini Mobile Legends Tournament, a fun and exciting initiative to recognise and reward mobile gaming fans in the country as it continues to connect with its 'always-on' users.
The initiative which was held at honor's very own concept store at Lowyat Plaza with the powerful honor 8 Pro is part of honor's commitment to deliver high quality customer experience with its innovative world-class devices.
"Our fans and customers are the cornerstone of our success, and part of supporting our fast-growing customer base is offering not only high quality devices but continued engagement. We partnered with Mobile Legends and organised this tournament as a way to recognise the rising popularity of mobile gaming and the talent we have here in Malaysia," said George Zhao, Head of honor Malaysia.
Zhao added, "We received a full registration within the first few hours of the tournaments announcement and we would like to thank fans for the overwhelming response.'
The two-day tournament saw a total of 60 participants from twelve teams across Malaysia with the winning team walking away with RM1,500 and five honor 360 VR Cameras worth RM599 each, and an opportunity to have a friendly match with the Malaysian Champion of the Mobile Legend Southeast Asia Cup 2017, Team Saiyan. All other participants also walked away with attractive merchandise from honor and Mobile Legends.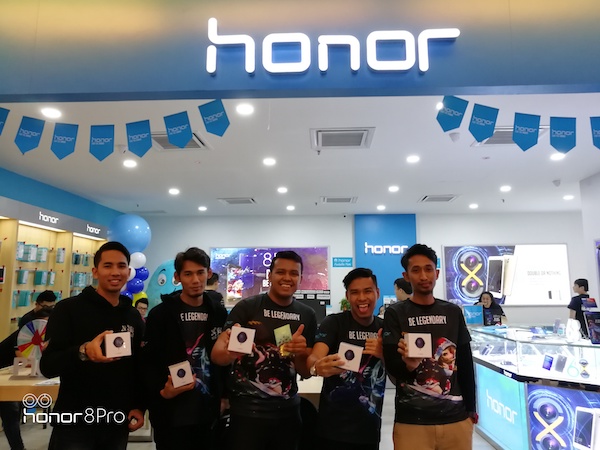 For those who registered for the mini Mobile Legends Tournament but were unable to participate due to the tournament's limited number of entries will receive a free limited edition Miya skin as a token of appreciation for their continuous support.
Geared with the octa-core Kirin 960 chipset which raises CPU processing by 18% and the Mali-G71 GPU which exceeds its predecessor in graphic rendering by 180%, the honor 8 Pro leaves its user with a smooth gaming experience and transition between apps and games. The honor 8 Pro is the official gaming smartphone for this tournament and its able to meet the performance needs and high demand of today's gaming community.