Continuing on the streak of the most anticipated era of smartphone photography, the HUAWEI P20 series nationwide roadshow attracted more than 1,000 consumers. Running from 6 April – 8 April in Sunway Pyramid, and from 6 April – 9 April in Sunway Carnival Mall, Penang, the second largest smartphone brand in Malaysia rewards HUAWEI consumers with prizes worth more than RM999 with every purchase of the HUAWEI P20 series.
Redefining smartphone photography, the HUAWEI P20 series roadshow enables consumers to experience the revolutionary photographic capabilities of the smartphone including fast shot, master AI, zoom and night shoot.
"It is encouraging to witness the growing support from our consumers, especially evident in today's roadshows. This speaks volumes about the commitment that HUAWEI adheres to in creating a more connected world. Our guiding principle is that everything begins and ends with the consumers," said Bill Liu, Country Director, HUAWEI Malaysia.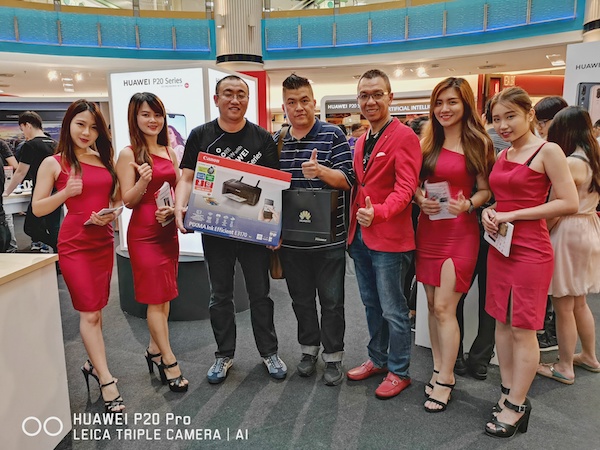 "The HUAWEI P20 Pro that comes with tri-camera has attracted me to visit this roadshow. I am impressed with the AI-powered photography especially it can capture stunning details even in lowlight conditions. I have purchased the HUAWEI P20 Pro and received the premium prizes such as the Canon Pixma printer and a HUAWEI Sport Bluetooth headphone. I look forward to the images that I can create with the HUAWEI P20 Pro,' said Mr. Chong, the first customer who queued up in the line.
To be part of the most intelligent camera experience, customers can purchase the new HUAWEI P series to get freebies worth more than RM999, ranging from prizes such as a Canon Pixma E3170 printer, a HUAWEI Sport Bluetooth headphone (AM61) and other exclusive rewards*. Additionally, customers will stand a chance to be awarded with another HUAWEI P20 Pro smartphone when they purchase from the HUAWEI P20 Roadshow. A total of two HUAWEI P20 Pro smartphone will be given out.
For more information please visit HUAWEI's website at http://consumer.huawei.com or HUAWEI's official Facebook page www.facebook.com/HUAWEIMobileMY.
*terms and conditions apply