Three outstanding Singaporean homegrown talents will don the country's colors on the undercard of ONE: IMMORTAL PURSUIT on Friday, 24 November at the iconic Singapore Indoor Stadium.Amir Khan is slated to lock horns with hard-hitting Australian combatant Adrian "The Hunter" Pang in the co-main event of ONE: IMMORTAL PURSUIT.
"Mighty" May Ooi is set to duke it out with Cambodia's Vy Srey Khouch, while Tiffany "No Chill" Teo faces Indian debutant Puja Tomar.The aforementioned three Singaporean standouts are seeking to hoist their country's flag aloft by winning their respective matches at ONE: IMMORTAL PURSUIT, which is headlined by a welterweight championship clash between division kingpin Ben "Funky" Askren and former lightweight titleholder Shinya "Tobikan Judan" Aoki.
"It's an honor to represent the country on a global stage like ONE Championship. I promise that I will do my best to give my beloved nation another spectacular win," Khan said.
"It's also a privilege to compete alongside Tiffany Teo and May Ooi. For sure, both of them are also eager to win their respective bouts for Singapore. We are aiming to walk away as victors in our upcoming matches. We don't' want to disappoint our countrymen as we perform our best in front of them," he added.
Khan already holds the record for the most knockouts in ONE Championship history, but he believes that one more finish should be enough to propel him to a shot at the ONE Lightweight World Championship, which is currently in the possession of Martin "The Situ-Asian" Nguyen.
"I feel I am ready to be a world champion any time soon. I believe once I put away Adrian Pang, I will be ready for the world championship. Adrian Pang is one of the top guys right now, so a title shot makes sense if I beat him," Khan stated.
The 23-year-old Singaporean knockout artist stressed that he has the skills to deal with an experienced foe like Pang, but he will have to put in the legwork early on to apply the finishing touches in the latter part of the contest, claim the eighth knockout of his career, and stake his claim for a world title shot.
"He has got quadruple the amount of experience that I have. He has been around for a long time. He is just really tough and durable. I've just got to take my time and not fall into his game plan," Khan expounded. "I will just keep my range, dance around him a little bit, and wear him out. He is going to be swinging for the fences, from what I visualize. I'll make him ticked off a bit, and then take him out in the second round."
Meanwhile, Ooi is booked to make her second appearance inside the ONE Championship cage at ONE: IMMORTAL PURSUIT opposite Srey Khouch.
Although Ooi was more successful against a common opponent in Ann Osman, she is taking her new assignment very seriously and acknowledges the danger that her Cambodian foe presents.
"She is obviously a kickboxer, but she is a good striker. You have to be careful in the cage," Ooi shared.
"I cannot speak for the other martial artists, but for me, there is always a certain level of uncertainty because you never know what is going to happen. Yeah, there is fear, but it has been managed in such a way that I do not really feel it anymore. There has to be some level of fear being in there, but you have to manage it," she further explained.
Even if her professional career is still in its infancy, one particular thing that motivates her is the fact that ONE Championship currently does not have a women's strawweight world champion.
"I have been signed for a number of bouts, and I am competing in a division that does not have a title holder. So it is wide open, and I have already beaten Ann Osman. I do not do stuff just to do stuff. Whether or not I attain it is a different matter," she stated.
On the other hand, Teo is a woman on a mission as she is also making a beeline for the top of ONE Championship's women's strawweight division.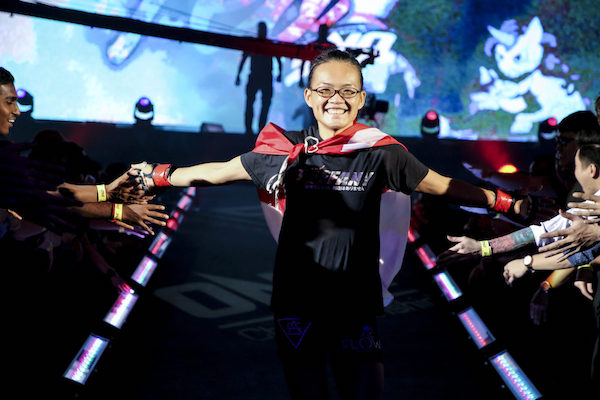 Competing at home is always a highlight for Teo, who looks to continue her winning ways and eventually vie for a divisional world championship
"I like it more in Singapore," Teo revealed. "It is really nice when you walk out and you have a lot of people cheering for you. When I compete, I am focused on my opponent, but I realize that every time I land a punch or get a takedown, I can hear the crowd responding, and that is really awesome."
"My long term goal would be getting a shot at the title belt that is currently vacant. Looking at the other female athletes in the division, I am undefeated and I feel like a top contender. I do not mind any opponent they give me – I am ready to take on any one of them," she maintained.
In her upcoming bout against Tomar, she is yearning to get the first knockout win of her professional martial arts stint.
"I am hoping to get a KO win. I have had submissions and a few unanimous decisions so far, even a TKO, so it will be nice to get a pure knockout. I have actually been saying that for a long time, but I have never been able to get it done. Hopefully this time around, I will," Teo ended.