Tepat jam 7.30 malam, WG tampil membuka tirai dengan Like This, petikan lagu dari album terkini. Kemudian suasana terus rancak dengan Nu Shoes dan The DJ Is Mine. Malah di pertengahan perjalanan persembahan, grup yang sedia sukses mencipta nama di persada Hollywood ini membiarkan penonton memilih lagu apa yang harus mereka nyanyikan. Mereka juga membuat kejutan dengan memakai baju kurung pada konsert ini.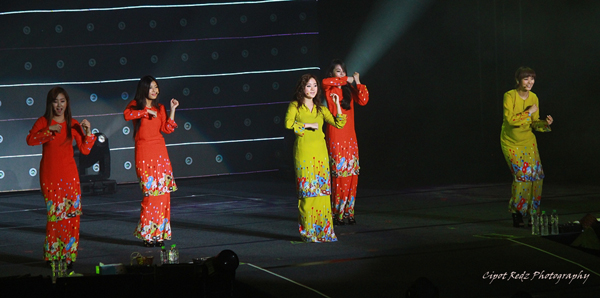 Antara lagu lain yang melengkapkan konsert mereka dengan lagu seperti 2 Different Tears, Girlfriend, So Hot, Like Money, Hey Boy, Girls Girls, Dear Boy, Be My Baby, Ibabo (This Fool), Tell Me, Wishing On A Star, Girls Night Out, Its Not Love dan lagu lagu, apa lagi kalau bukan Nobody.
Selama lebih kurang 1 jama 45 minit, lima gadis cantik lagi seksi ini sukses mengheret Wonderfuls (gelaran untuk peminat) 'hanyut' dalam 'dunia Wonder World' mereka dan WG berjanji mereka mahu kembali ke sini lagi.
[nggallery id=111]