Macao is a gem of a city that bursts with vibrancy and is known for its unique 'east meets west' Chinese-Portuguese culture. If you're looking to explore Macao's amazing charm and revel in this colourful city the authentic way, then allow the Macao Government Tourism Office to bring you on a journey like you've never experienced before! This March to April, catch the Macao Government Tourism Office at travel fairs all over Malaysia and discover the endless excitement that Macao has to offer!
| | |
| --- | --- |
| Date | Venue |
| 9 – 11 March 2018 | MITM Travel Fair (Johor) |
| 16 – 18 March 2018 | MATTA Fair (Kuala Lumpur) |
| 30 March – 1 April 2018 | MATTA Fair (Penang) |
| 6 – 8 April 2018 | MATTA Fair (Johor ) |
Great news for holiday lovers! If you purchase Macao travel packages at the travel fairs stated above, you will be entitled to redeem an exclusive gift! Hurry and redeem while stocks last! (Terms and conditions apply.) Visitors can also look forward to a line-up of exciting activities during the fair such as a special Macao Souvenirs workshop, Spot Me! Macao puzzle game, a delicious Macanese Food Tasting activity as well as an AR booth, that are sure to open your eyes and reintroduce you to a Macao like you've never known before!
Besides the travel fairs, the Macao Government Tourism Office will also be launching 'Macao On The Go' where a special roving team in a Kombi will be dispatched to travel all over Johor! If you want to catch the team and their Kombi at their stops, remember to take note of the dates and venues that will be stated below as there will be many exciting games and activities prepared for you that you wouldn't want to miss!
| | |
| --- | --- |
| Date | Venue |
| 10 – 11 March 2018 | MITM Travel Fair (Johor) |
| 24 March 2018 | Batu Pahat |
| 25 March 2018 | Kluang |
| 6 – 8 April 2018 | MATTA Fair (Johor) |
If you're the type of holiday goer who loves to discover and taste the amazing local cuisine offered at your holiday destination, then you must definitely pin Macao as a hot spot in your travel list this 2018! Whether it's the taste of the unique blend of Chinese and Western flavours, the array of exquisite ingredients that make up the chic and charming Macanese cuisine, authentic Cantonese delicacies, or traditional handmade fare, Macao has it all! Having just been awarded the title as a 'UNESCO City of Gastronomy' by the UCCN on 31 October 2017 – the third city in China to receive this prestigious title – Macao is definitely a must-visit for food hunters who are looking to satisfy their appetite!
Just on 17 January this year,'2018 Macao Year of Gastronomy' was launched with the aim to preserve as well as revive the city's cultural and gastronomical legacy to ultimately forge Macao as a Creative City of Gastronomy which showcases its unique charm and creativity to the world. In line with this, a series of new tour routes which incorporate various culinary spots and experiences as well as special collaborations with foreign travel agencies to offer 'Macao Culinary Tour' travel packages are in the works to provide travellers with the opportunity to explore and experience Macao's gastronomical gems in an in-depth way.
In addition to the '2018 Macao Year of Gastronomy' event, the vibrant city will also be coloured with many exciting activities and events such as the '2018 Asia's 50 Best Restaurants' from 25 to 27 March, the 6th Macao International Tourism (Industry) Expo from 27 to 29 April, the 29th Macao Arts Festival and the HUSH! Full Music (Beach Concert) in May, the 18th Macao Lotus Flower Festival from 9 to 17 June, the 29th Macao International Fireworks Display Contest on 1, 8, 15, and 24 September and 1 October, World Tourism Day on 27 September, the 32nd Macao International Music Festival and 21st Lusofonia Festival in October, the Macao Light Festival and Macao International Parade in December, and many more! This 2018, there is just no end to the excitement that Macao has to offer!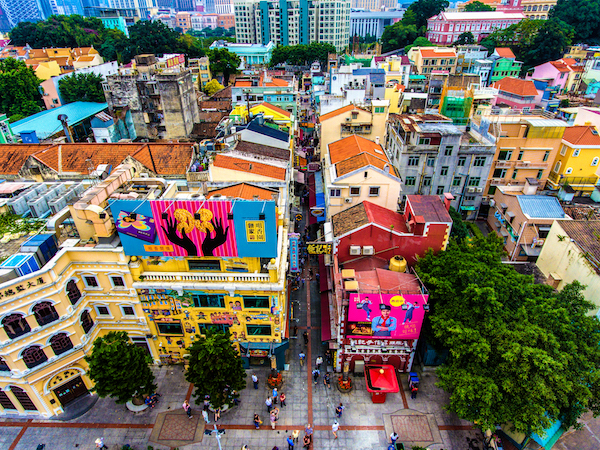 Besides that, the Taipa Village in Macao is currently the newest and hottest concept of dining and retail that injects freshness and vitality into the city. It provides locals and tourists alike a uniquely different experience that is quaint yet silently exciting, with numerous stops for gastronomical and retail therapy. Taipa Village is one of the most historic and well-preserved areas in Macao. With picturesque cobbled streets and Chinese-Portuguese style architectures that make for great photos, its serene ambience just nicely balances out the dazzling sounds of the neighbouring Cotai Strip. The village is peppered with various restaurants and retail outlets such as the Bella Taipa, La Famiglia, Shake Shake Homa, Guava Juice, the Rooftop Macau Lifestyle Store, and many more. Offering a wide range of heritage attractions and innovative dining venues, Taipa Village is definitely becoming a tourist landmark that showcases Macao's diverse culture. It's a place that will excite both locals and tourists as it provides a lively blend of authentic and fresh recreational experiences! Don't miss the chance to experience the endless excitement that Macao offers – come now to explore and enjoy!
For more event details, visit Macao Tourism Malaysia's Facebook page at https://www.facebook.com/MacaoTourismMalaysia/.