Adrian "The Hunter Pang, who is extremely hailed as an ultra-tough opponent known for giving his all in bruising battles, steps into the ONE Championship cage for the first time in a year when locks horns with young Singaporean standout Amir Khan on Friday, 22 November on the undercard of ONE: IMMORTAL PURSUIT.
After dropping close and competitive decisions to Eduard Folayang and Roger Huerta in 2016, Pang is in danger of becoming a stepping stone for up and coming lightweights such as Khan, who has been vocal about his desire for a shot at the ONE Lightweight World Championship.
Pang's 23-year-old opponent is riding high a five-bout winning streak and holds the record for most knockouts in ONE Championship history at seven.
According to a seasoned competitor like Pang, he wants to see for himself just how tough and dangerous the Singaporean prospect claims to be.
"It is like the young bull versus the old bull. I actually wanted to compete against him. I thought it would be a tough match for me. He is young and he will have heaps of energy, but he has not had a real good matchup yet," he said.
"I have competed all around the world, I have been up and I have been down, so I will be the one to give it to him," Pang added.
The 40-year-old Australian veteran knows that he will need to be at his absolute best to defeat Khan.
"Amir Khan is a great martial artist and definitely well-rounded. I do not like to look at much tape of my opponents and choose to focus on what I bring to the table. The game is martial arts, and it is martial arts that we shall do," he stated.
Pang trained twice a day at one of Australia's most popular martial arts facilities, Integrated MMA, a gym that he owns and operates.
Each session runs anywhere from an hour to an hour and a half, and he focuses on a variety of disciplines including Brazilian Jiu-Jitsu, Muay Thai, boxing, and wrestling.
In addition, Pang dedicates some of his sessions to an intense strength-and-conditioning program.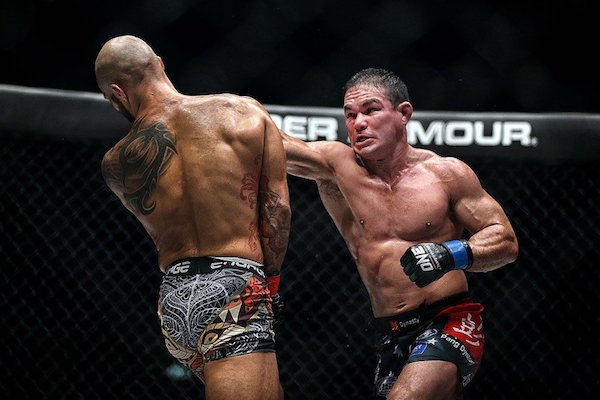 As Khan aims to extend both of his knockout and winning streaks in the hope of getting a world title shot, Pang believes that his Singaporean counterpart will not be having a walk in the park.
Pang, who has an affinity for striking and a granite chin, has never been knocked out in his 16-year run as a professional combatant.
"I have been competing for 16 years. If he thinks he is going to knock me out, he'd better think of something different because positive thinking is not going to help him. No one has ever knocked me out, so if he were to do it, then fine — let him be the first," he asserted.
Still wanting a chance to become a world champion, Pang is back on the road to redemption and looks to return to winning ways.
"My alias says it all. I won't be the prey in this bout. I am coming for him and the win. Sorry, but I am not going to be his footstool. I am here to win," he declared.