Good news just keep rolling in for Princess of Rock Jessie Chung! After a thousand fans attended Jessie's launching show in Dongguan, China, Future Entertainment & Music Group Australia brought in the electrifying news: There You Are is now certified platinum.
There You Are has stayed in the top ten of the international chart for eight consecutive weeks. Jessie's album first debuted at number two, only two points behind chart leader Lady Gaga.In the seventh week, the album surged back up to eight, and stayed there in the eighth weeks.Jessie Chung and Lady Gaga are the only female singers who have stayed in the top ten for eighth consecutive weeks.Upon debut in China, "There You Are" successfully entered into Baidu's Music Chart,so far it has risen to 9th place.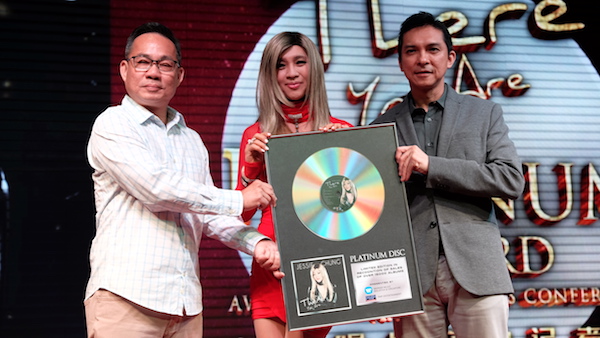 Chairman of the Recording Industry Association of Malaysia (RIM) and Managing Director of Warner Music Malaysia & Singapore Darren Choy stated that most albums,when released into the market,typically only see a momentary spike in sales for a mere one to two weeks; sales plummet almost instantly in the next few weeks. However, a true first class album can sustain its sales continually; this is a characteristic a platinum album should boast.
In the three months, There You Are's total sales exceeded more that 15,000 copies, this is something local artists of today have trouble achieving.Besides, the new album Be Strong, which has recently gone gold in Malaysia,has sold over 5,000 copies in a week; we are all thrilled by its results.
Next stop in Jessie Chung's Be Strong tour will be on New Year's Eve at 8pm at Paradigm Mall in Kelana Jaya, where she will be meeting her fans. Then on the next day at 3pm, Jessie will celebrate the arrival of 2017 at Aeon Bukit Tinggi with her fans!