With the launch of Calpis Fibre with less sugar range into the Malaysian market, Calpis, one of Malaysia's leading cultured milk brands continues to multiply the goodness among Malaysians. This time around, they have concocted an unconventional, fun, and exciting nationwide contest called 'Fibre-Up Challenge" which was launched on 7th December. The contest is set to challenge fans from 7th December 2017 to 2nd January 2018.
The concept behind the contest is simple and unique. Fans are challenged to share the goodness of Calpis Fibre with less sugar and show how 'light' they feel when they consume Calpis Fibre through stimulating or creative physical stunts captured in a photo. This gives fans a chance to express their creativity as well as share the goodness of Calpis Fibre range which promotes gut health with a dose of deliciousness.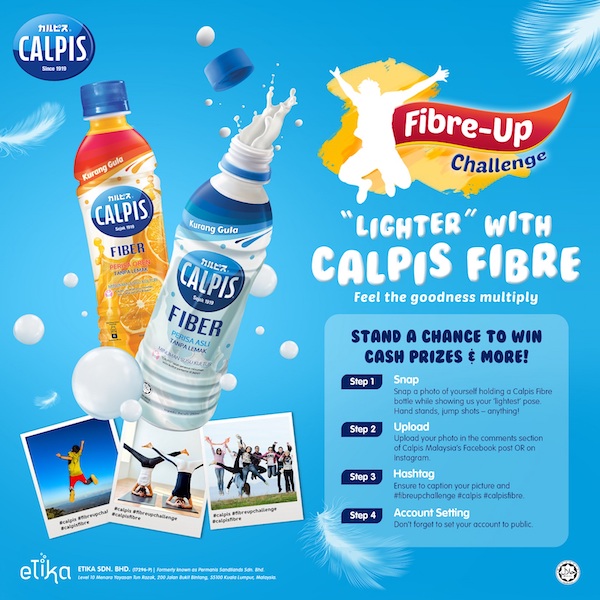 Thereafter, participants can amplify and multiply the goodness within on their social media platforms, such as Facebook and Instagram. All contestants need to do is simply hashtag #calpis #calpisfibre #fibreupchallenge and upload a photo of their 'light' moments while holding a bottle of Calpis Fibre in the photo submission and they stand a chance to win prizes! There will be twenty lucky winners in total with each standing a chance to win RM500 in cash as well as a carton of Calpis Fibre Original 350ml or Calpis Fibre Orange 350ml.
The launch of the 'Fibre-Up Challenge' will start with popular influencers such as Sharifah Sakinah, Nana Mahazan, Nana Al Haleq, Hafidz Roshdi, Ahmad Ezzrin Loy, Cik Manggis, Alvin Chong along with Calpis ambassadors, Harith Iskander, Yuna, Zizan Razak and Siti Nordiana sharing their own 'light' moments by being the first to participate in the contest. Through their submissions, the celebrities will get to talk about how Calpis Fibre makes them feel 'lighter' as they are able to maintain good intestinal health and have stronger and healthier digestion.
"Aside from tasting great, I believe that this cultured milk drink is also really good for me because it clears my digestive system and when that happens, I feel 'lighter'. Then I can do a lot more things and most of all, I don't feel sluggish because of the 'lightness' in my gut!", said Harith Iskander, Laugh Factory Funniest Person in The World 2016.
"As part of our commitment of promoting a healthier gut and ease of digestive process, Calpis continuously looks for different and unconventional ways to create awareness and engage with fans. We have incorporated a fun element to the 'Fibre-Up Challenge' by collaborating with Calpis ambassadors which will have a lasting impact and help fellow Malaysians understand the importance of healthy gut and leading healthier lives," said Santharuban T. Sundaram, Vice President of Marketing at Etika Sdn Bhd.
Santharuban added "We hope that this contest will 'lighten-up' our fans as well as inspire them to lead to healthier lives. In return, we want to encourage our fans to share and multiply the goodness around to friends and family".
To find out more information on how to take part on "Fibre-Up Challenge", please visit www.etikaholdings.com.