So, what happens when Malaysia joins forces with Singapore and tickles your funny bone? You die of laughter, of course! The first of its kind in Malaysia, "Laugh Die You" will bring the best of comedy from Malaysia and Singapore on one stage. This comedy event will feature the ever so funny, our very own Malaysian stand-up comedian, Douglas Lim take on Singapore's uber funny, motormouth queen, Kumar, on May 14th and 15th 2015 at the HGH Convention Centre, Kuala Lumpur.
A show like no other, this highly anticipated comedy show will be hosted by the very hilarious Mr. Phua Chu Kang himself, Gurmit Singh. "It is going to be a fantastic comedy show. It will showcase a distinctive take on Malaysian vs. Singaporean comedy. Be prepared as well to be entertained by the best in Singapore, JB and some even say Batam", said Gurmit Singh. This two and half hours comedy show will also feature home-grown stand-up comedian, Rizal van Geyzel. As a post-event entertainment to this show, audience can be expected to be entertained by Malaysian rock band, Hydra. Organised by Popcorn Studio Sdn Bhd, this fun filled comedy night that features comedy kings and queen of Malaysia and Singapore respectively, is expected to slay their audiences with lots of Malaysian vs. Singaporean jokes and laughter.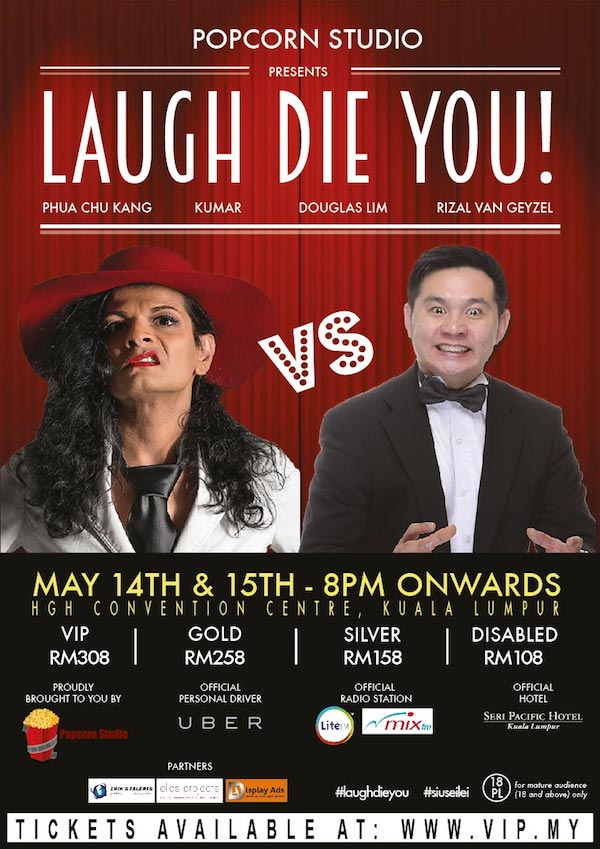 "Laugh Die You", a direct translation of a Cantonese phrase, "siu sei lei", which quite simply means "to laugh until you die", is expecting at least 4,000 Malaysians to fill its venue, come May 14th and 15th 2015. Tickets are priced at RM308 (VIP), RM258 (Gold), RM158 (Silver), RM10 respectively and are available only at www.vip.my .For those travelling from afar have an option for accommodation at the Seri Pacific Kuala Lumpur at a discounted rate upon prior booking and proof of ticket purchase.