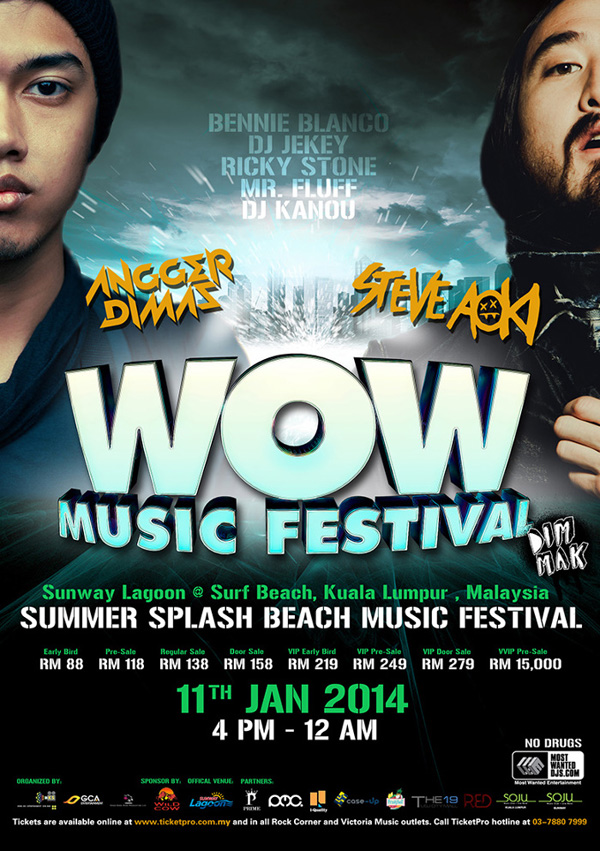 Music festivals continue to draw national and international performers and audiences into Malaysia. Not only have music festivals in general found a home in the city, electronic music festivals in particular have begun to take root. With the rise of EDM (electronic dance music), it was inevitable for more genre-specific festivals to rise in Malaysia.
Malaysian craving for an Ibiza like dance party at the beach need not worry no more as come Saturday January 11th 2014 fans of dance music will have non stop fun in the water from 4pm till 12 midnite with THE WOW SUMMER SPLASH BEACH FESTIVAL 2014 at Surf Beach Sunway Lagoon, This momentous event is brought to you by KONG SIN Entertainment. What better way to usher in the Chinese New Year festivities and carry forth 2014 New Year celebrations onto January 11th.
It is unprecedented whereby party goers and dance music lovers can experience the Ibiza festival atmosphere in our very own party venue. What is unique is that the party commences as early as 4pm and fans are advised to come in early for the opportunity to experience a dance music festivities that incorporates dance music with fun in the water and at the same time fans will get up close with their favourite DJs. fun whilst splashing in the water. The loud blast of industrial-siren, incessantly pounding sounds of EDM along with periodic refreshing breeze water shots from confetti machines installed on the stage to be "sprayed" to audiences ; awesome lighting effects all designed to heighten theGET WET TO DANCE experience that can only happen at the WOW SUMMER SPLASH BEACH FESTIVAL 2014
As anyone who follows pop music knows, the last 4 years have seen the DJs rise to celebrity status on a tidal wave of dance music that's come to be called EDM (electronic dance music) by the press and fans alike. The pounding sounds of EDM have also been popularized on Top 40 radio with famous singers from the pop and R&B music genre joining its ranks.
The EDM dominance moves forth into 2014 with the headliner for The Wow Summer Music Festival 2014 being EDM legend Steve Aoki
Headlining this event will be a face now pretty much a household name in the electro realms of dance music, and totally familiar and well loved by Malaysian electro fans. Grammy nominated US DJ/producer Steve Aoki, as much known for his acrobatic crowd surfing stunts, throwing cake at fans, spraying drinks, and riding rafts on the dance floor, as his music productions, will return to delight his Malaysian fans,Now ranked No. 8 in that DJ Poll of all polls by British club magazine DJ Mag, he's also been ranked by Forbes as one of the highest paid DJs in the business..
Supporting Steve Aoki will be an impressive array of international reknown DJs such as his constant co-collaborator ANGGER DIMAS from Indonesia. DJ and producer Angger Dimas represents Indonesia's national music dish with his mash up of chopped beats and pumping synths that are topped off with some Dutch inspired spicy sounds! Angger has constantly been rocking the best parties & clubs throughout Asia, was booked to perform at the world's biggest festivals Tomorrowland, Belgium and at Insomniac's Nocturnal Wonderland,
To round off the first list of DJs participating will be our very own Mr Fluff .Malaysia's multi-talented, big haired music producer, singer-songwriter, musician and renowned club DJ who has travelled to Las Vegas and performed alongside Gym Class Heroes, Erick Morillo, Kanye West, Paul Oakenfold and many more.
The DJs stated are only 3 of the many more star studded international DJs which will be announced in the weeks to come to what promises to be a wet in the water dance fiesta to kick off 2014 festivities with a splash.
For Early Birds tickets are priced at RM 88.00 for the first 500 purchases in which after that the tickets will be sold at Pre Sale price of RM 118.00 (for a limited time only) Regular Sale RM 138.00 and Door Sale RM 158.00. For VIP Tickets – Early Bird RM 219.00 Pre Sale RM 249.00 (Door Sale RM 279.00).
The tickets are inclusive of Sunway Lagoon rides from 4.00pm – 7.00pm. The G-Force and Bungy Trampoline will be exclusive for VIP ticket holders whilst FlowRider is for all ticket categories… The First 200 VIP ticket holders will be able to play G-Force for an unlimited time!
All VIP holders are entitled for FREE entrance to Soju SUNWAY (after 12am) and get up close with your favourite international DJs until the break of dawn. Limited capacity (800 pax) on a first come first serve basis.
The Wow Summer Music Festival 2014. Brought to you by KONG SIN Entertainment
Line Up:
Steve Aoki
Angger Dimas
Bennie Blanco
DJ Jekey
Ricky Stone
Mr. Fluff
DJ Kanou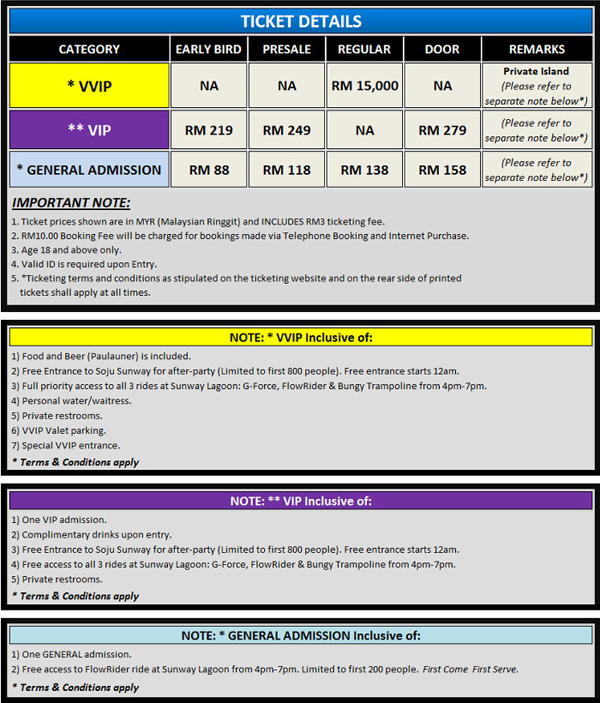 Ticketing Hotline: +603 78807999
Online Booking: www.ticketpro.com.my