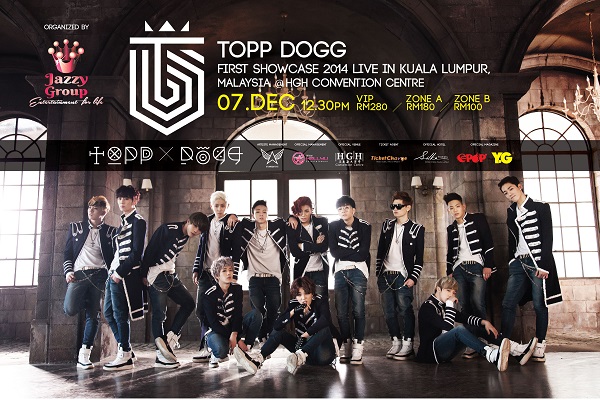 Jazzy Group are proud to bring you another sensational Korean pop showcase in Malaysia! TOPP DOGG First Showcase 2014 Live in Kuala Lumpur, Malaysia 2014" will be held at HGH Convention Center, Kuala Lumpur on 7th of December 2014!
Topp Dogg was formed by Stardom Entertainment in 2013. Consisting of Jenissi, P-Goon
Seogoong, Gohn, Hojoon, Kidoh, Sangdo, Nakta, Hansol, B-Joo, Xero, A-Tom and Yano,
the group is one of the least Korean pop group which consist 13 members in a group a record which fellow Korean heartthrob, Super Junior has also held. Known for their powerful dance routine and charismatic on-stage performance, Topp Dogg is arguably one of the rising star for which the Korean pop industry could offer in recent times.
This would also be Topp Dogg's first ever showcase in Malaysia following a recently successful showcase in their native country last year. First 200 lucky fans who have purchased VIP Zone tickets, will also entitle to attend an exclusive fansigning session with the boys! This would be an event in which ToppKlass would never want to miss.
The ticket price is listed as followed:
RM280 VIP (first 200 ticket purchasers would be entitled to attend an fansigning session exclusively from Topp Dogg) (Ticket purchase only available at Jazzy Group's office)
RM180 Zone A
RM100 Zone B
*All ticket price are subject to an additional RM3 charges of processing fees.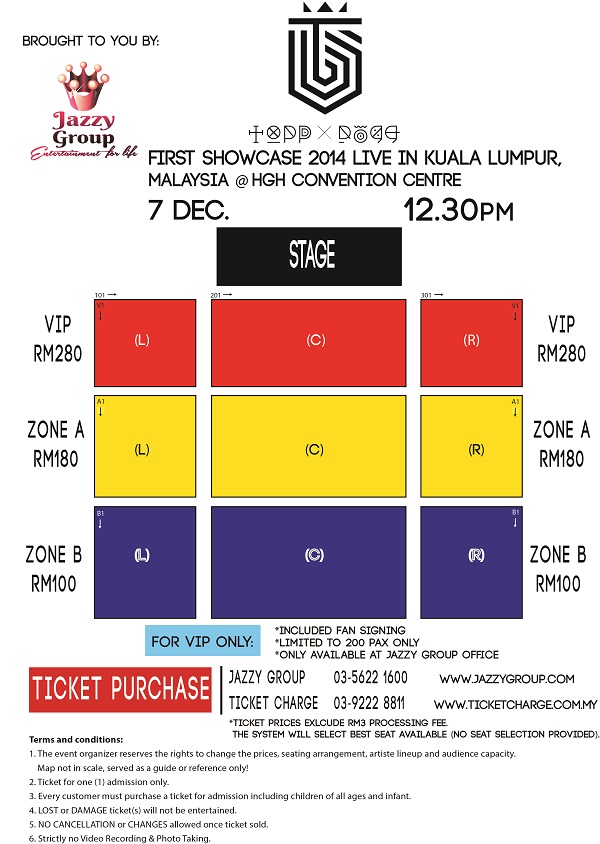 Tickets will be on sale on 13th of October, 2014 at 10 a.m. Tickets available at TicketCharge www.ticketcharge.com.my.
For more information and latest updates about Topp Dogg's Malaysian showcase, stay tuned to Jazzy Group's official Facebook, Twitter and Weibo. For more media enquiry, kindly please contact our media coordinator or call Jazzy Group's helpline at 03-5622 1600.