It was officially announced today that Malaysian music lovers will be in for a treat as rising independent acts Alex Goot & Against The Current will be making their way to our shores next month. Their highly anticipated joint concert tour – Alex Goot & Against The Current Live In KL will be staged at the Bentley Music Auditorium in Wisma Bentley Music, Damansara Mutiara, at 4.00pm on 24th August 2014, exactly one month from today.   Their Malaysian date is organized by upstart digital age concert promoters Skinny Buddies Entertainment, and is supported by YouTube Malaysia.
Alex Goot is a mercurially popular multi-talented independent pop artiste with four studio albums to his credit, who rose to fame by leveraging on the power of social media and YouTube.  Against The Current is an equally exciting pop rock band that has made similar strides tapping on platforms like YouTube. The band consists of Chrissy Constanza, Dan Gow and Will Ferri.  Both of these rising acts have collaborated with each other and created hits with covers like "Catch My Breath", "Not over You" and "Beauty & A Beat", which has raked them over 58 million views to date.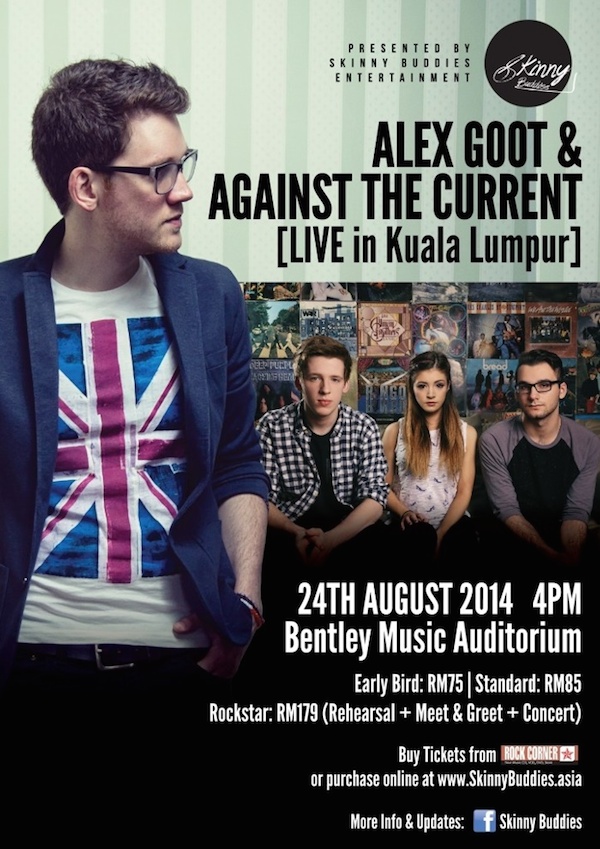 Supporting the show will be Malaysia's award winning pop punk favourites An Honest Mistake, and Skyward, whose lead singer Ming Han, is a rising filmmaker who has over 157,000 subscribers on his YouTube channel TheMingThing.  Hosting the event will be popular television host Mark O'dea from 8TV Quickie.
Tickets for the Malaysian show is available online at www.tickethotline.com.my or from selected Rock Corner outlets, and are priced at RM85 (Free Standing) each. Early bird tickets and premium Rockstar tickets which were released earlier have already been sold out. Fans are advised to buy their tickets early to avoid any disappointments, due to the limited number of slots available for this much awaited concert.
Alex Goot
Alexander George Gut better known as Alex Goot is a twenty six year old singer-songwriter and multi-instrumentalist from Poughkeepsie, New York.  He plays acoustic guitar, bass guitar, piano, drums and other instruments. He started recording music when he was 16 and gained popularity by promoting his talent via various social media networks as well his own website which he uses to distribute his music and feature regular updates. He currently has over 1.8 million subscribers on his YouTube channel GootMusic, with his videos receiving over 200 million views.  GootMusic is ranked higher than channels from mainstream acts such as Big Bang, Jennifer Lopez, Pitbull, Avril Lavigne, Selena Gomez and Pink among others, on YouTube's Top 200 channels list. He spends most of his time in his home studio producing his own audio and video releases, or performing live around the world. To date Goot has released 4 studio albums of original material, and 6 of cover songs. His first studio album In "Your Atmosphere" was made possible by his fans via an extremely successful KickStarter campaign. He is the perfect example of celebrity in the YouTube age; self-driven, self-promoting, aside from his musicianship, relying on modern messaging and technology to get heard and get ahead. Goot has made several videos in collaboration with other artists such as We Are the In Crowd, Kurt Hugo Schneider, Megan Nicole, Sam Tsui and current touring partners Against The Current.
https://www.facebook.com/gootmusic
http://www.youtube.com/user/gootmusic
Against The Current
Against The Current is a young pop rock band that has made major strides tapping on online platforms like YouTube. The band who hails from Poughkeepsie, New York is made up of Chrissy Constanza (vocals), Dan Gow (vocals/guitar) and Will Ferri (drums).  Against The Current have released five original singles, entitled "Infinity",  "Another You",  "Guessing" , "Thinking" and "Closer, Faster", all available on iTunes.  Their debut 5 track EP "Infinity" was released in May 2014 and received glowing reviews. Their notable cover songs include "Good Time – Owl City ft. Carly Rae Jepsen" , "Not Over You – Gavin DeGraw" and "Catch My Breath – Kelly Clarkson".  Additionally, Chrissy has done several collaborations with notable YouTube cover artistes, such as "Heart Attack" with Sam Tsui and Kurt Schneider, and "Beauty and a Beat" with Alex Goot and Kurt Schneider. Their YouTube channel has over 560,000 subscribers to date, and the band is gaining momentum globally with their covers and original material.
http://www.facebook.com/againstthecurrentband
http://www.youtube.com/user/againstthecurrentNY
Skinny Buddies Entertainment
Skinny Buddies Entertainment is an upstart digital age concert promoter and event organiser that aims to bring quality entertainment to a new breed of consumers by leveraging on the power of social media. The company's name originates from the fact that both their young and enterprising founders, Leonard Chua and Cecilia Yong, are actually quite skinny, and have been buddies for eons. Chua is currently the guitarist and founding member of the award winning pop punk band An Honest Mistake, while Yong is a professional and championship ballroom dancer, who won the second season of So You Think You Can Dance Malaysia. Being young and digitally engaged gives this industrious pair the advantage of being truly connected to their target market, as they aspire to promote both local and international content in the region.